What the numbers say
Here is the weekly installment of 'What the numbers say,' a statistical look at high school football in East Alabama and 'Locklier's Listings'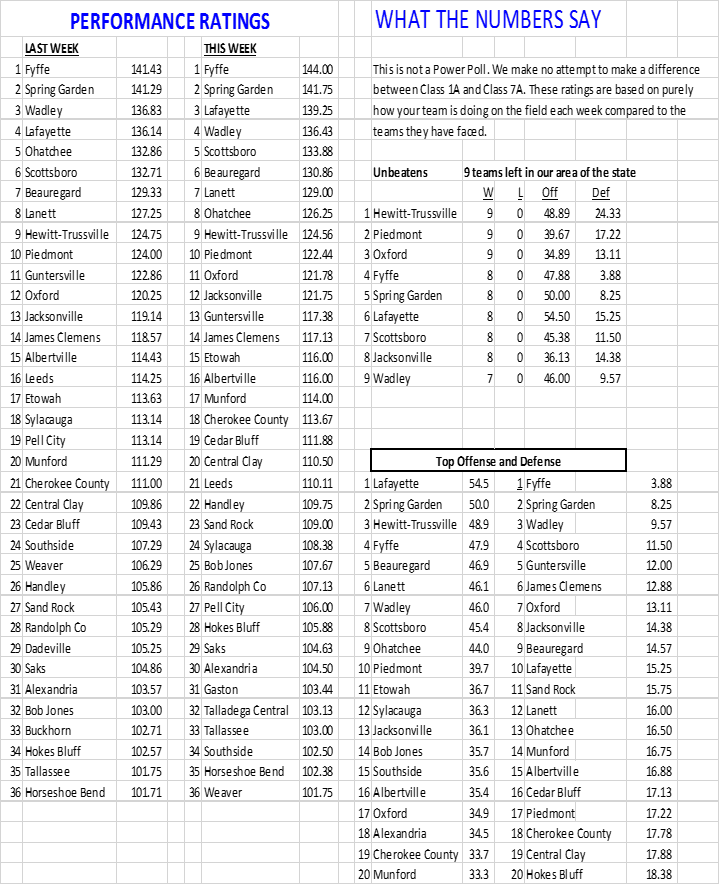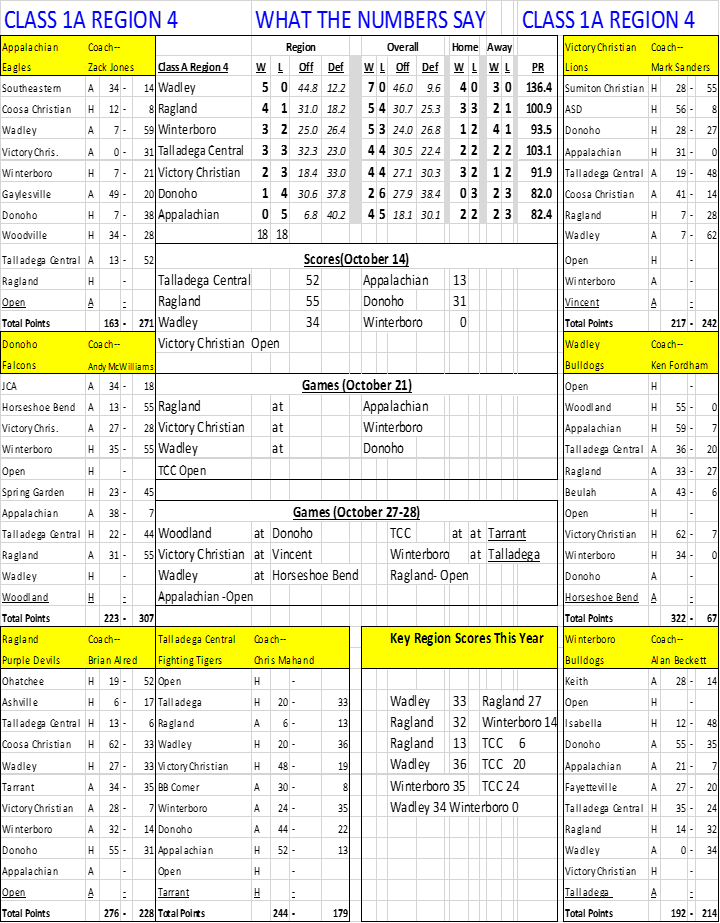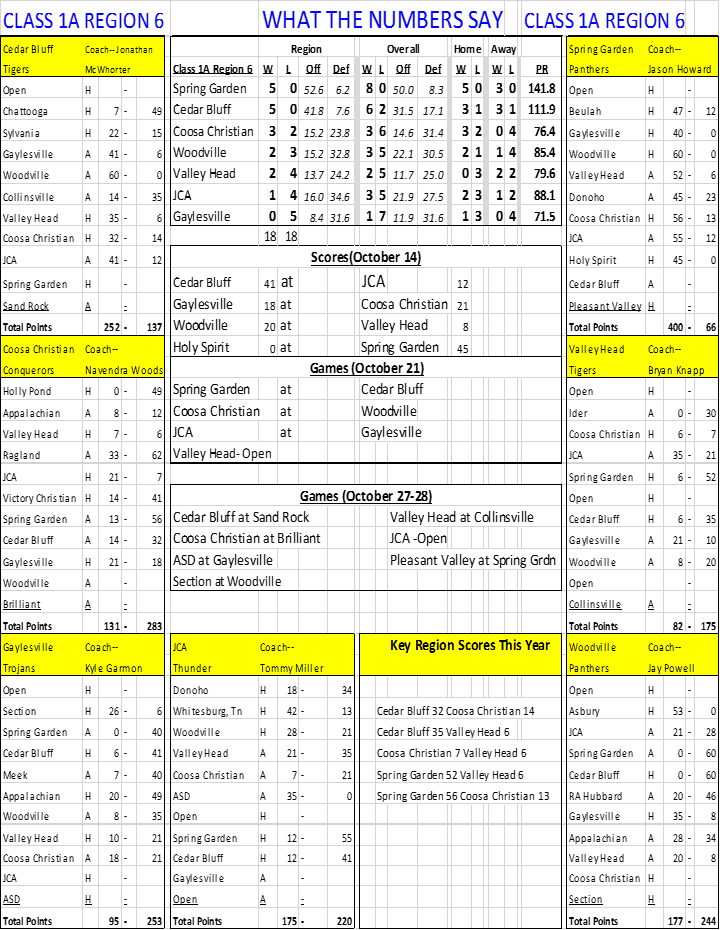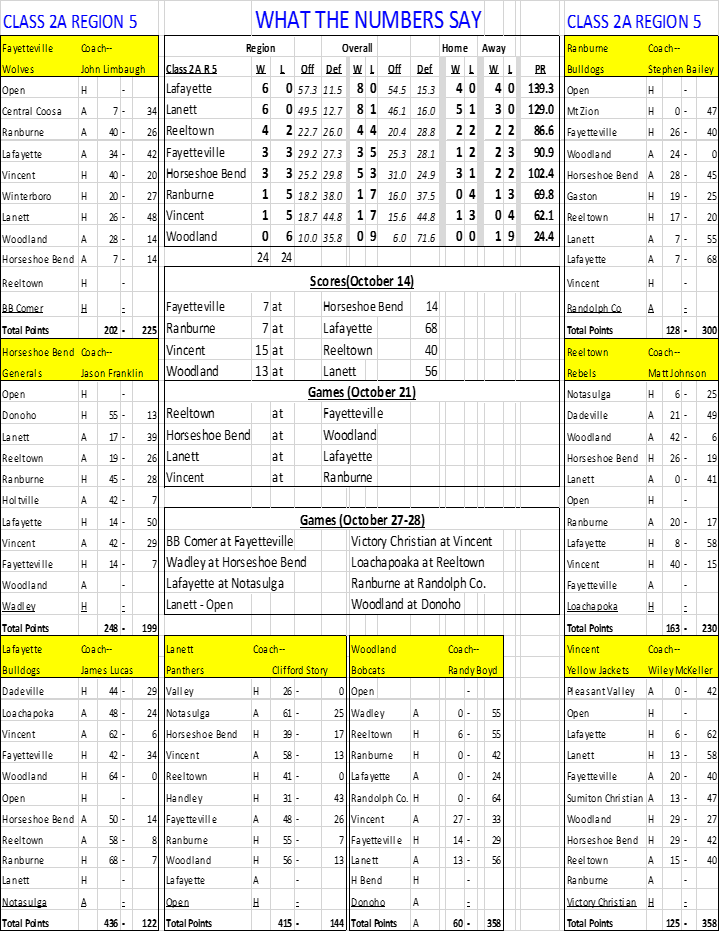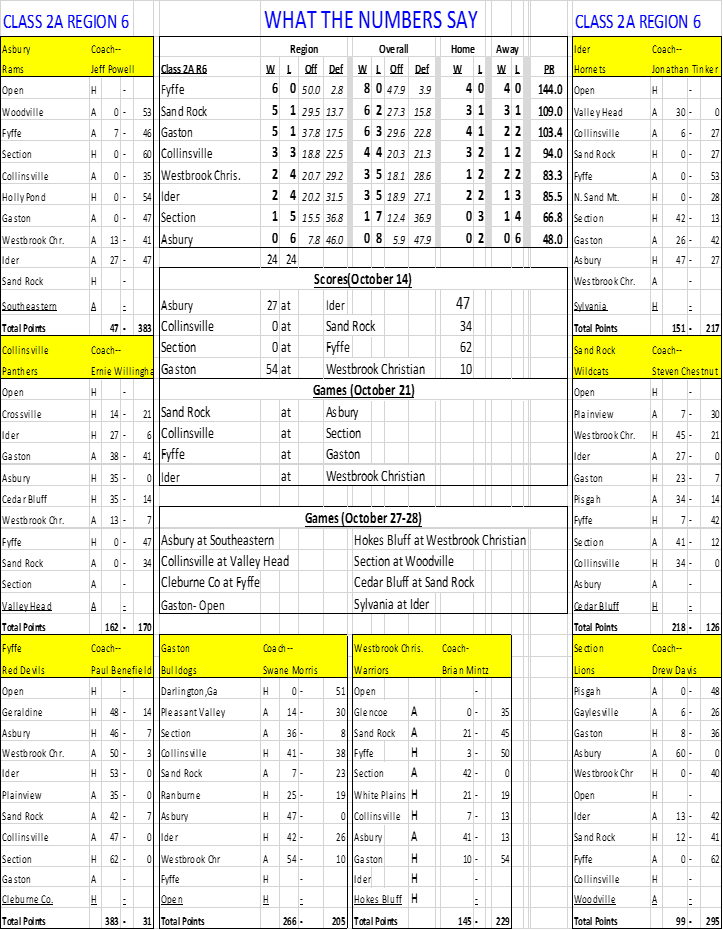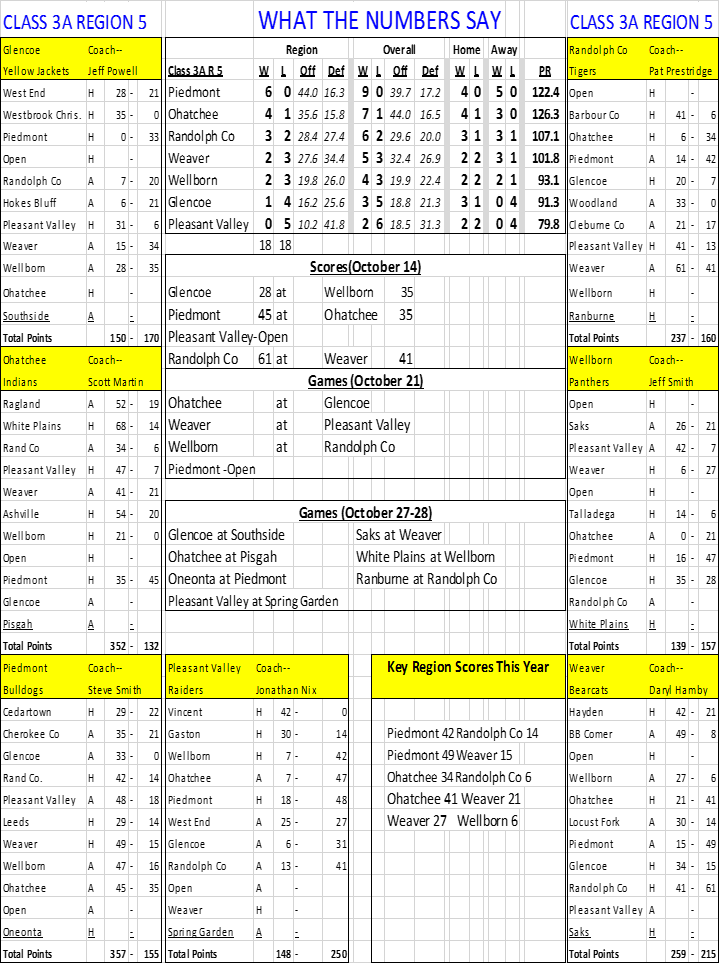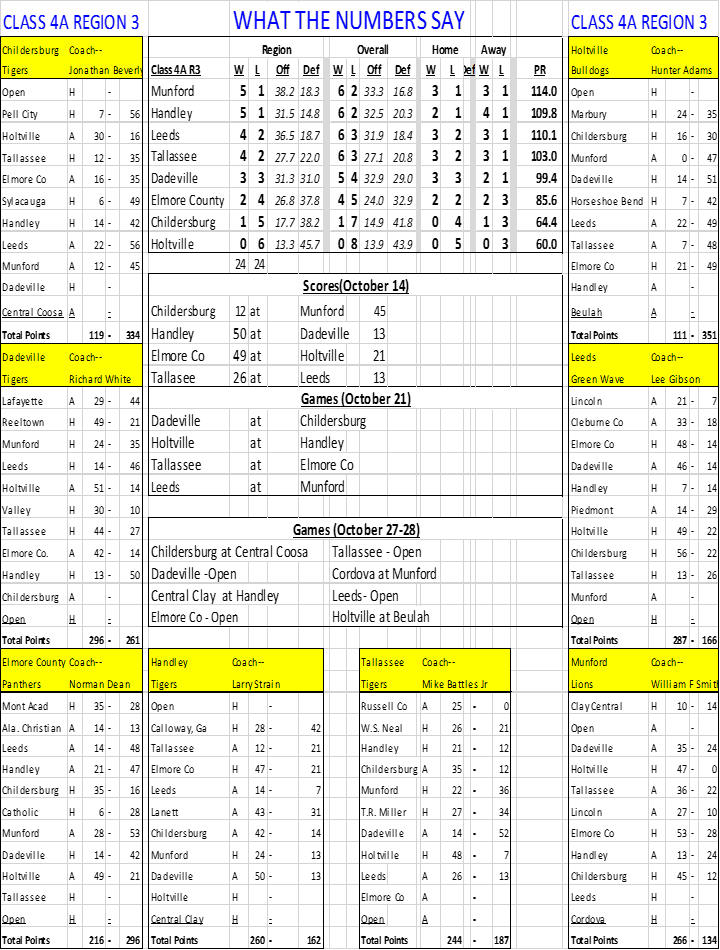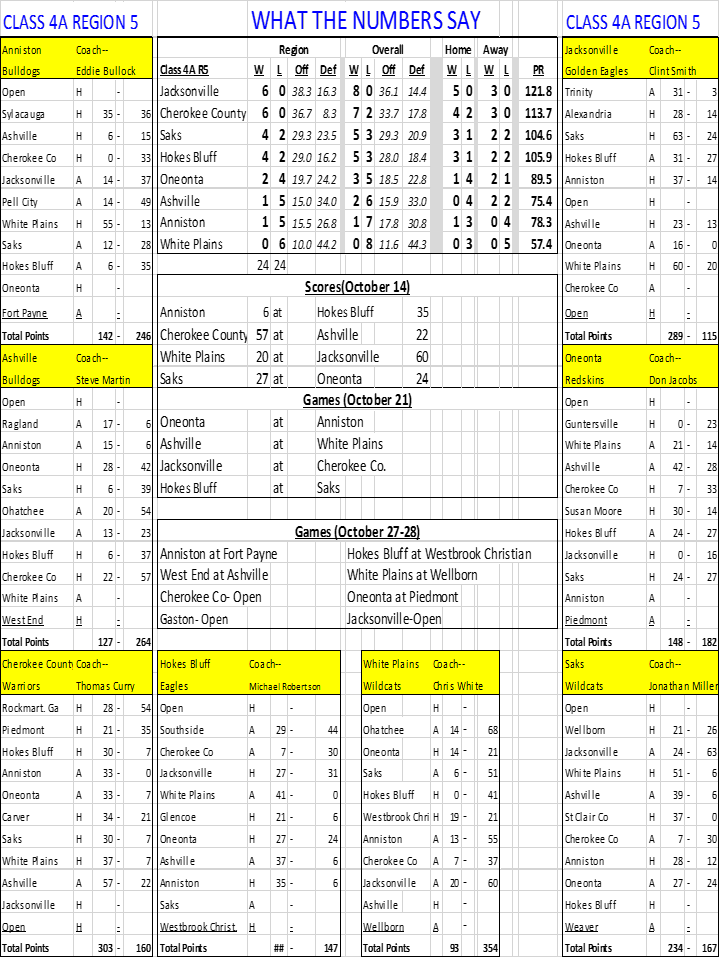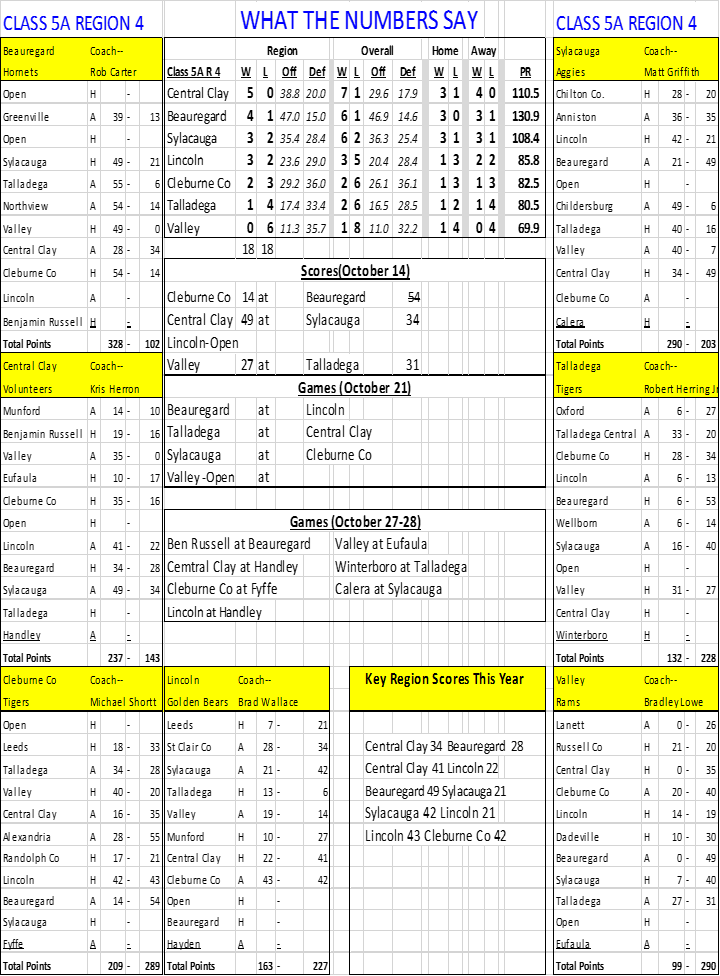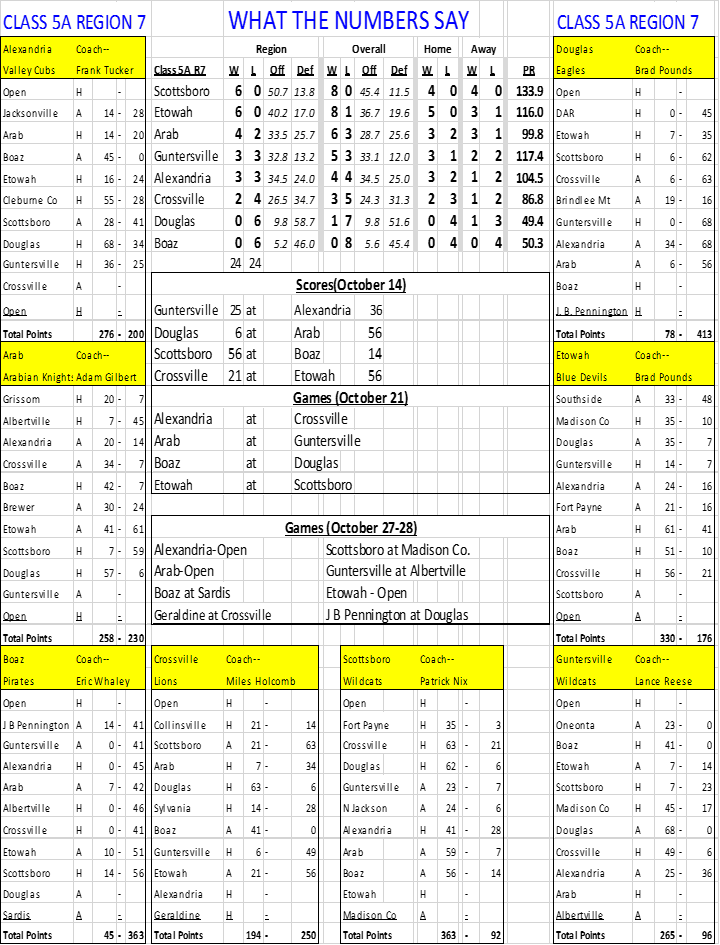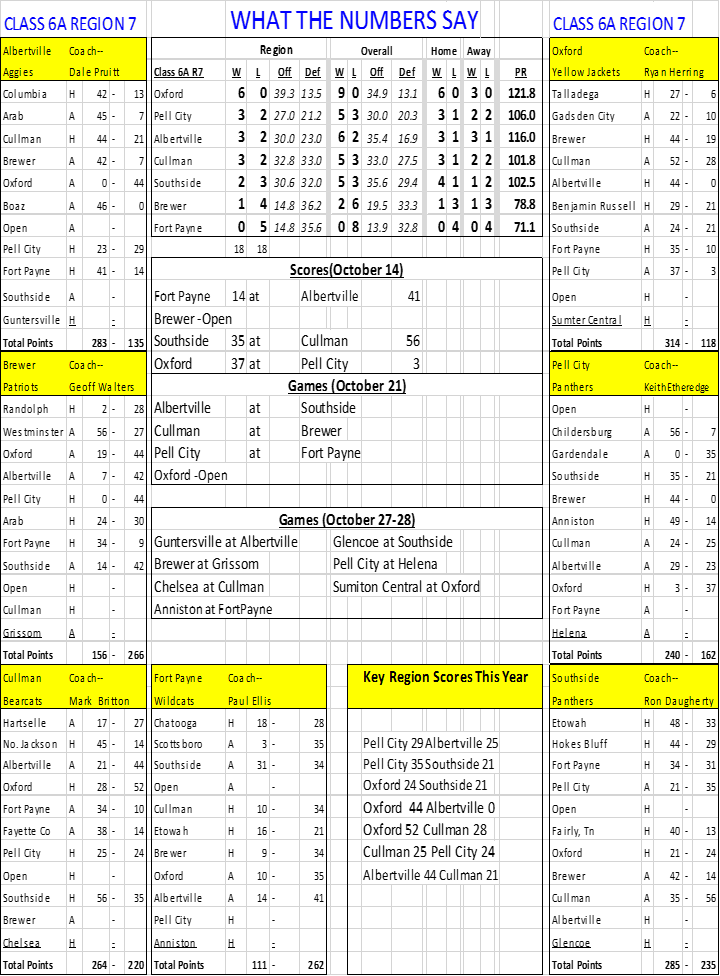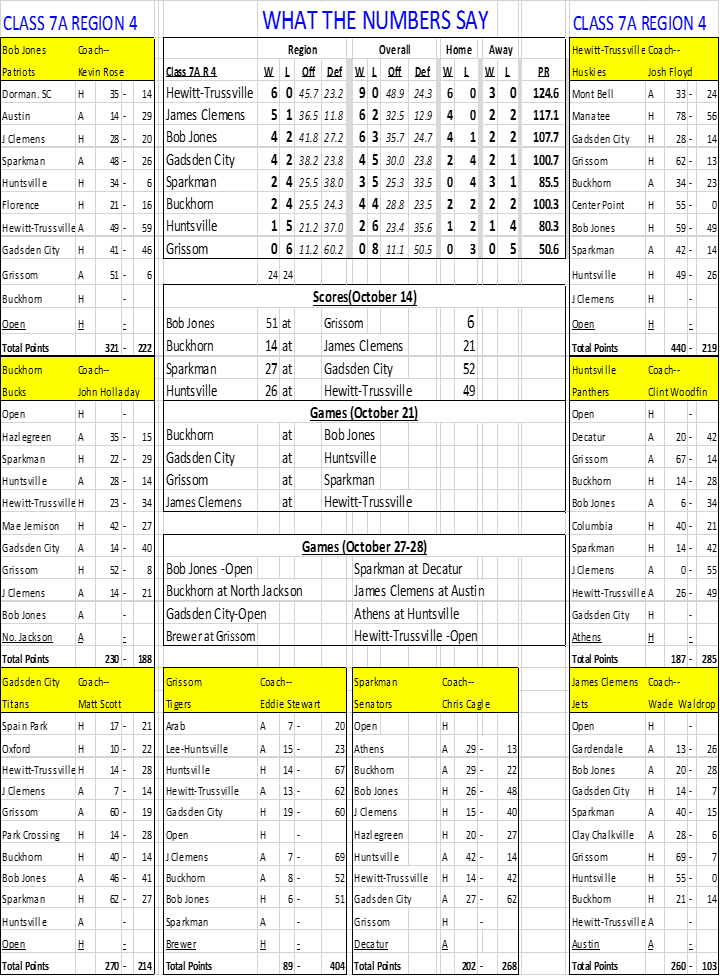 CLASS 1A, REGION 4
Unbeaten Wadley appears to be on its way to a region title and should take care of business this week at Donoho. Ragland should beat Appalachian this week to finish 5-1 in the region and take second place. Winterboro needs a victory over Victory Christian to take the third spot, while Talladega County Central has rallied its season to hold down the fourth spot. A Victory Christian win at Winterboro this week creates a three-way tie among Winterboro, TCC and Victory Christian for two playoff spots.
CLASS 1A, REGION 6
This region boils down to one game: Spring Garden (8-0) at Cedar Bluff (6-2). Both are 5-0 in the region. Spring Garden has won eight straight games in 2016 while averaging 50 points and allowing 10. Cedar Bluff has been just as impressive in region games; it has lost two non-region games to higher classification teams. Coosa Christian and Woodville play this week for third place. All four of these teams have locked up playoff spots.
CLASS 2A, REGION 6
Fyffe (8-0) looks to put the finishing touches on another dominating region championship year with a win at Gaston. The Bulldogs (6-3) are seeking an upset that could catapult them into a possible region title and into a three-way tie with Fyffe and Sand Rock. Fyffe should win this one, leaving Sand Rock in the second spot, Gaston third and Collinsville wrapping up fourth with a win at Section.
CLASS 2A, REGION 5
Lafayette will be at home in a showdown with Lanett to decide the region title and it could be a shootout. The Bulldogs are averaging 57 points a game and allowing 12 points a game in region play. Lanett (7-1) is averaging 50 points a game and allowing 12 points a game; its only loss was to 4A power Handley. Lafayette (8-0) has beaten 4A power Dadeville.
Reeltown should wrap up third place with a win at Fayetteville. The loser is most likely out of the playoff picture. Horseshoe Bend should beat winless Woodland and could get the fourth playoff spot if Fayetteville loses to Reeltown.
CLASS 3A, REGION 5
Piedmont won over Ohatchee last week in the game for the region title and the defending state champions are well on their way for another deep playoff run. Ohatchee has clinched second place and faces Glencoe this week. Randolph County has won five straight and a win at home against Wellborn could wrap up third place. There's also a possibility of a three-way tie among Randolph County, Wellborn and Weaver, which would force a deep tie-breaker decided by the wins by non-region opponents beaten. Gio Mosley hurt his knee two weeks ago but is expected to play in Weaver's game against Pleasant Valley.
CLASS 4A, REGION 3
Handley will win the region title this week with a home victory over winless Holtville. Munford needs a home win over Leeds to hang on to the second playoff spot. Tallassee will claim the third spot with a win at Elmore County. A Tallasee loss and a Dadeville win would create havoc in trying to figure out the final two playoff spots. All we do know is that Munford and Handley are in.
CLASS 4A, REGION 5
The Jacksonville Golden Eagles, 8-0 overall and 6-0 in the region, travel to play red-hot Cherokee County (7-2, 6-0) for the region title. The Warriors have won seven straight. Both teams are averaging around 34 points a game and giving up around 15 points a game this season. It should be a classic. Hokes Bluff will be at Saks; the winner will take third place in the region and the loser will finish fourth.
CLASS 5A, REGION 4
Region champion Central-Clay County looks to wrap up a perfect region record as Talladega comes to town. Beauregard is trying to wrap up second place in the region with a win at always-tough Lincoln. Cleburne County needs to beat Sylacauga and have Lincoln lose to Beauregard to get into a three-way tie for third place and hope the tiebreakers fall their way to make the playoffs.
CLASS 5A, REGION 7
Etowah (8-1, 6-0) travels to Scottsboro (8-0, 6-0) in a monster game featuring two SEC-to-be quarterbacks for each team. Alexandria needs to beat Crossville this week and Arab to beat Guntersville to lock up a sure playoff spot. If Guntersville wins, then the Valley Cubs end up in a 3-way tie and will have to sort through all the tie-breakers to determine their fate.
CLASS 6A, REGION 7
Oxford crushed Pell City last week to take the region title, but that is the only thing clear about this region. Pell City, Albertville and Cullman are all tied for second. Southside is one game back in fifth place, but hosts Albertville this week and a win could get it back into the playoffs and Albertville out if Pell City defeats Fort Payne and Cullman defeats Brewer as expected.
CLASS 7A, REGION 4
After four tough, close losses to start the season, Gadsden City has clinched a playoff spot by winning four of five. Hewitt Trussville (6-0) and James Clemens (5-1) play for the region title.