Area reports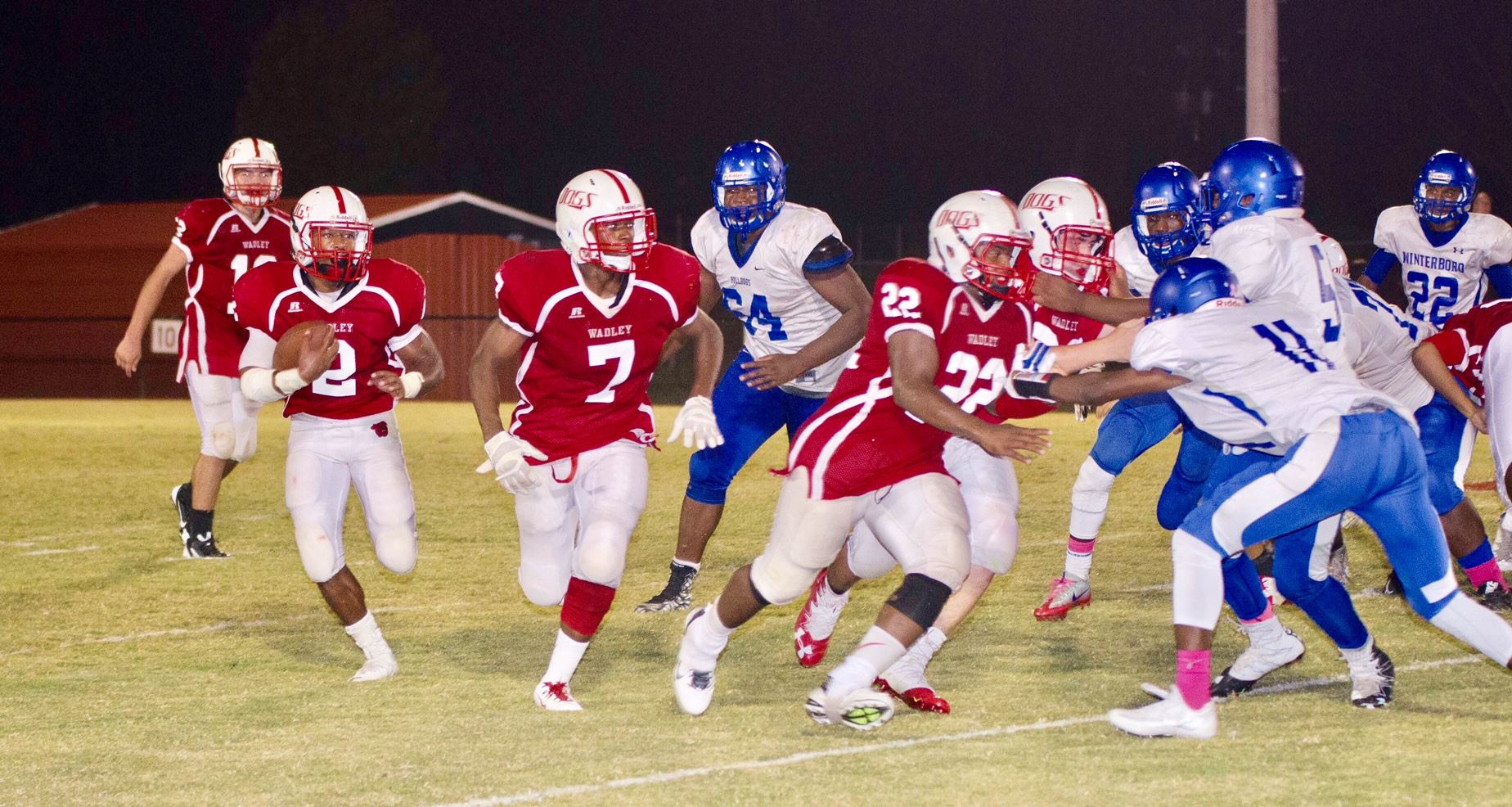 Wadley, Spring Garden both remain unbeaten after posting shutouts; Cherokee County stays unbeaten in region, sets up showdown with Jacksonville for title
By East Alabama Sports Today
WADLEY 36, WINTERBORO 0
WADLEY — Tyrese Sheppard rushed for 182 yards and Coby Nunn had 83 yards and scored three touchdowns as the sixth-ranked Bulldogs clinched Class 1A Region 4.
Jamichael Angel scored the game's first touchdown before Nunn went on his scoring spree and finished with 46 yards on nine carries. The Bulldogs (7-0, 5-0) rushed for 324 yards as a team.
Wadley 36, Winterboro 0
Winterboro 0 0 0 0 — 0
Wadley 13 0 14 9 — 36
Wa – Jamichael Angel 1 run (Elijah Beverly kick), 5:26 1Q
Wa – Coby Nunn 5 run (PAT failed), 3:34 1Q
Wa – Coby Nunn 7 run (Connor Fordham conversion), 6:27 3Q
Wa – Coby Nunn 6 run (Elijah Beverly kick), 0:51 3Q
Wa – Tyrese Sheppard 21 run (PAT failed), 11:43 4Q
Wa – Safety, 1:17 4Q
SPRING GARDEN 45, HOLY SPIRIT 0
SPRING GARDEN – Quarterback Ben Ivey accounted for nearly 200 yards of offense and three touchdowns as the third-ranked Panthers remained unbeaten and on track for a region title showdown with Cedar Bluff.
Ivey threw for 151 yards and two touchdowns on 5-of-7 passing and he rushed for 45 yards and another score. Quintin Downey rushed for 89 yards and two touchdowns, while Dakota Lambert scored on a reception and a punt return.
The Panthers (8-0, 5-0) matched their win total of a year ago and are working on a 13-game regular-season winning streak.
Twenty-five players were credited with tackles in the Panthers' third shutout of the season. Luke Welsh, Colby Slayton and Lucky Bolen had six each.
CHEROKEE COUNTY 57, ASHVILLE 22
ASHVILLE – Tyren Dupree threw four first-half touchdown passes, three to Quartez Henderson, as the Warriors remained undefeated in the region to set up a region title game with Jacksonville this week.
Dupree was 10 of 13 for 152 yards passing and rushed for 68 yards. Henderson caught four passes for 106 yards.
Cherokee County 57, Ashville 22
Cherokee County 21 17 13 6 — 57
Ashville 0 6 0 16 — 22
C – Quartez Henderson 27 pass from Tyren Dupree (James Sewell kick)
C – Quartez Henderson 10 pass from Tyren Dupree (James Sewell kick)
C – Chris Roden interception return (James Sewell kick)
C – Terry Stephens 6 pass from Tyren Dupree (James Sewell kick)
C – Quartez Henderson 54 pass from Tyren Dupree (James Sewell kick)
A – Kyle King 12 run (kick failed)
C – James Sewell 47 FG
C – Sidney Perry 75 run (James Sewell kick)
C – Kvon Stubbs 15 run (kick failed)
A – Arnold Gutierrez 28 run (Arnold Gutierrez run)
C – Chance Latty 30 pass from Caden Hubbard (kick failed)
A – Kolby Armstrong 62 run (Arnold Gutierrez run)
Team stats CC A
First downs 16 17
Rushes-yds 22-239 46-227
Passing 11-16-0 5-10-1
Passing yds 182 96
Fumbles-lost 0-0 2-1
Punts-avg 1-54.0 3-30.0
Penalties-yds 3-30 3-30
On the cover: It's Wadley's wave of the future. Senior Tyrese Sheppard runs behind the blocking of junior Coby Nunn (7) and sophomore Jamichael Angel (22) during the Bulldogs' win over Winterboro. (Photo by Christy Fordham)