Killer B's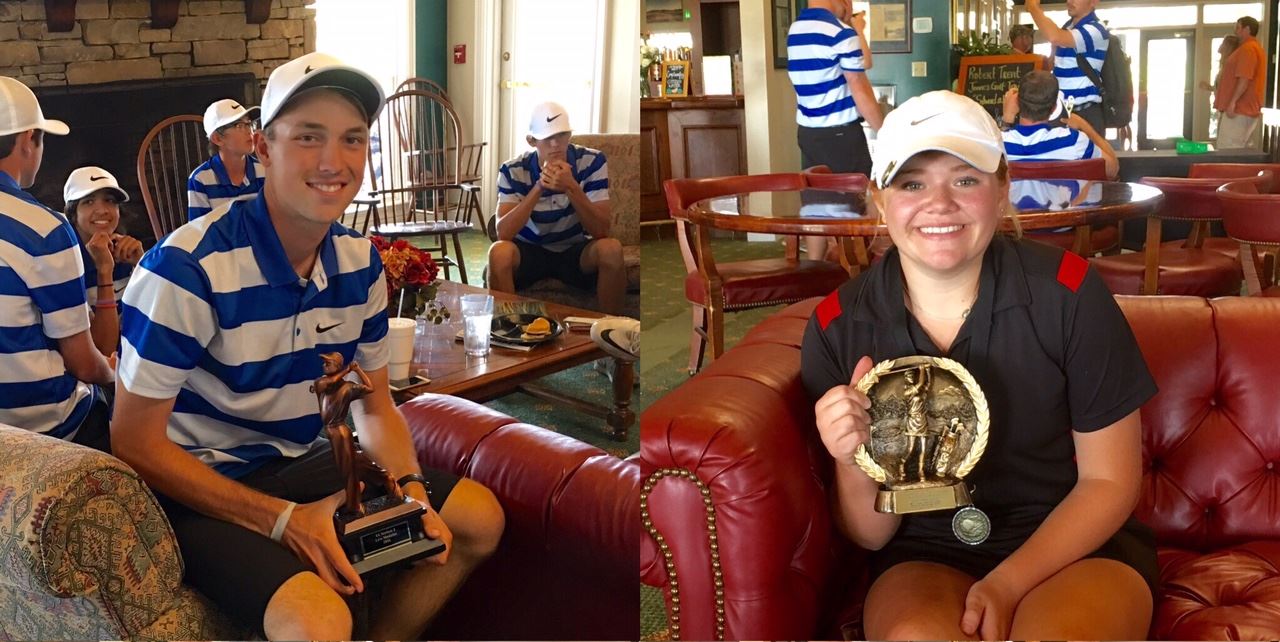 White Plains's Bussey shares 4A boys medalist, JCA's Borders wins 1A-3A girls outright
By Al Muskewitz
East Alabama Sports Today
HUNTSVILLE — Layton Bussey and Chloe Borders left the golf course Tuesday with the biggest prizes of their golf career in the final tournament of their high school golf careers.
Bussey, the lone senior on White Plains' golf team, shot a 2-under-par 70 and pulled into a tie with UMS-Wright's Andrew Graves for co-medalist in the boys Class 4A golf championship at Hampton Cove.
Borders, a Jacksonville Christian senior playing an an individual, waited nearly two hours after her round ended before winning the girls 1A-3A medalist. She shot 81 on a windy day and won by four shots over Mars Hill playing partner Hannah Pope.
"I'm just real excited," she said when the results finally were announced.
Bussey looked down at the plaque in his hands and even though he may have tied for first place nowhere did it say "co" anything.
Hitting what coach Marcus Harrell called some of the best clutch shots he's seen in his life, Bussey came from three shots back to start the day and birdied 15 and 16 to take the outright lead. But he three-putted the final hole from 50 feet for his only bogey of the back nine to drop into a tie.
His five-foot putt for par — and the outright win — lipped out.
The AHSAA does not playoff for medalist in the state finals, although the individual titles are played off in the sectional and substate tournaments. White Plains' Colman Hayes lost in the substate playoff last week at Anniston Country Club.
The Alabama Golf Association, which administers the event, prefers a playoff. In recent years, Alexandria's Jordan Gregoria was declared a co-medalist and Donoho's team shared a team title with Houston Academy with no playoff.
"I think it's bull crap," Harrell said. "I just think you crown a champion not champions. … I can see it being changed in the future."
If Bussey was disappointed at what might have been he wasn't showing it.
"I'm looking at this plaque and it doesn't say co-medalist," he said.
Meanwhile, Borders protected her overnight girls 1A-3A lead with a second-round 81 at the Hampton Cove Highlands Course.
It left her with a two-day total 159, and as the first group in the classification out she must wait for the rest of the field to come home to see if she's the tournament's low medalist and the Thunder's first ever AHSAA state champion.
"I'll probably be nervous," she said.
Throughout the wait she reflected on the bible verse that said if the time was right for it to happen it would. It was and she did.
Borders entered with a three-shot lead over Mars Hill sophomore Hannah Pope. Her next closest competitor played in the final group of the day.
If she goes on to win, she'll have a Fred Couples moment to remember. Just like Couples had a ball hold on the bank of No. 12 during his 1992 Masters win — six years before Borders was born — Borders had a shot that appeared headed for a watery grave on 12 bounce out and settle six inches on the bank. She saved a par.
It's unknown what it hit, but there was a plastic drain pipe jutting out of the water with a hole in its side about where Borders' ball appeared to have hit the water.
"That shot really did keep me motivated," she said. "But to be honest I was happier with the second shot that didn't go in the sand."
Check the East Alabama Sports Today website later for more on Bussey, Borders and the White Plains girls' titles.