Last jump together
Piedmont pole vaulter Will Mitchell makes emotional farewell to his high school career at state meet
By Al Muskewitz
East Alabama Sports Today
CULLMAN – When his last jump was completed and the realization hit that his high school career had come to an end, Piedmont pole vaulter Will Mitchell collected his gear, walked across the track, sought out the man who had been with him every step of the way and gave him a tearful embrace.
One final attempt to get over 13 feet at Friday's Class 1A-3A state track meet marked the end of a long high school run together for the senior and his dad, Piedmont coach Mark Mitchell. It couldn't not be emotional.
"Going into this weekend it was really about my dad," Will Mitchell said, tears starting to crack his voice. "Because I'm going to jump again, but I'll never jump for him, you know.
"We've been doing this so long together. For us to be done, it's just really surreal. To go out the way we did, giving it all we had, that's all you could ask for. He's been a great coach and a great father."
The thought that the end of this journey was near hit the night before the elder Mitchell brought the entire team together to laid out just how the day was going to go. Will said he tried not to think about it, but watching his dad's reaction to the final jumps — particularly when he passed 12-6 to make the podium – put a lump in their throats.
Mark gave the hurdles that formed the outline of the coaches box a satisfied slap when Will cleared the bar at 12-6.
"It's not so much where he finished as that he is finished," Mark Mitchell said. "He didn't have his best day jumping but he gave himself a shot at 12-6, which he knew he had to get to at least get a top three, so gutsy on his part. I couldn't be more proud of that because there were times he was to the third jump and he manned up."
The younger Mitchell has tried hard to break 13. He gave it a run at the Calhoun County Meet after setting the record at 12-10 and had three shots at it Friday. He finished in third behind two vaulters he'd been battling on the state level throughout his career.
"Obviously I feel disappointed," he said. "Physically I felt a little not up to my standards; not 100 percent. But I still had some really good tries at it and I really thought I had it on my first one."
After Will fell out of the competition, it left Cottage Hill's Connor Allred and Winfield's Walker Junkin as the last men standing. Junkin dropped out at 13-6, but Allred went on to set the record at 14-3. He missed on three attempts at 14-8.
"All these guys that are competing now have been competing in the same spot for three years, we've just raised the bar," Will said. "My 10th grade year 11 (feet) won it, last year 12-6 won it and this year Connor is about to set a record."
As he said, he will jump again. He's headed off to college where intense training will have him flying over that 13-foot mark in no time. Now he has his sights on the 15-6 it 15-6 it will take to qualify for the NCAA Championships.
While his father won't be by his side, he'll undoubtedly be watching every step.
As if the day weren't emotional enough for him, Mitchell the coach was outright glowing over his 4×800 relay team of Trey Snider, Justin Young, Justin Escamilia and Seth Pope. It entered the meet seeded 13th and ran sixth (9:05.07). Pleasant Valley made up a lot of ground late in the race and finished third (8:35.60).
"They laid their heart and soul and their guts out," Mitchell said of the relay team. "We talked about running for the 'P' on the front of their shirt and they exemplified exactly what we wanted from Piedmont track and field. Moving up seven spots that is a tremendous job on their part."
Piedmont goes into today's final day tied for fifth place in Class 3A boys. Weaver is 12th, Ohatchee and Pleasant Valley are tied for 14th.
The Bulldogs' other points on the day came from Cardavian Myers' eighth-place finish in the triple jump (41-5), Krae Keener's fourth in the shot (46-7½), Logan Beadles' third in the discus (130-4) and Pope's sixth in the 400 (52.68).
Weaver's Brannon Bellar (51.72) and London Knight (52.36) were third and fourth, respectively, in the 400. PV's Matisse Miller was seventh in the boys 1600 (4:44.34).
Donoho's Max Garrett (111-8) and Reaves Nelson (109-9) finished fifth and seventh, respectively, in the 1A discus (111-8).
Ohachee's Austin Snelling was second in the discus (133-1). He beat his personal best by nearly four feet on his first throw of the day.
"I did not expect it," he said. "It just threw so smoothly and I didn't think it actually went that far. I was just shooting at a top five. I never expected to get second place."
1A-3A GIRLS
On the girls side, Pleasant Valley is third in Class 3A (three points out of second place), Piedmont is tied for ninth and Ohatchee is tied for 14th.
Piedmont senior Karri Green and Pleasant Valley sophomore Rachel Faucett brought home individual gold.
Green broke her own state record in winning the 400 in 56.59 and nearly tied the record as the fastest qualifier in the 200 (25.12). The UAB signee also was the second-fastest qualifier in the 100 hurdles and will run in the 300 hurdles timed finals today.
Faucett's three-peat in the high jump led a 1-3-4 Pleasant Valley finish in the event at 5-4. Cammy Cochran, in her first year running track, was third (5-0) and Brenna Harris, last year's junior high state champion, was fourth (4-10). Of the top seven finishers in the event, they were the only non-seniors.
"I guess this one was better (among the three wins) because I had Brenna and Cammy with me," Faucett said.
She also finished seventh in the 1600 (5:38.45) and ran a leg on the Lady Raiders' third-place 4×800 relay.
PV's Mikala Simpson was eighth in shot put (30-4 ½), completing a comeback from having both feet operated on since the end of basketball season. Courtney Poole scored Ohatchee's points with a fourth-place finish in the shot (31-5½) and Camryn Swain scored Donoho's point with an eighth-place finish in the 1600 (6:00.81).
"We have had a good first day," PV coach Brad Hood said. "To be in the top three would be a huge step for our program moving forward."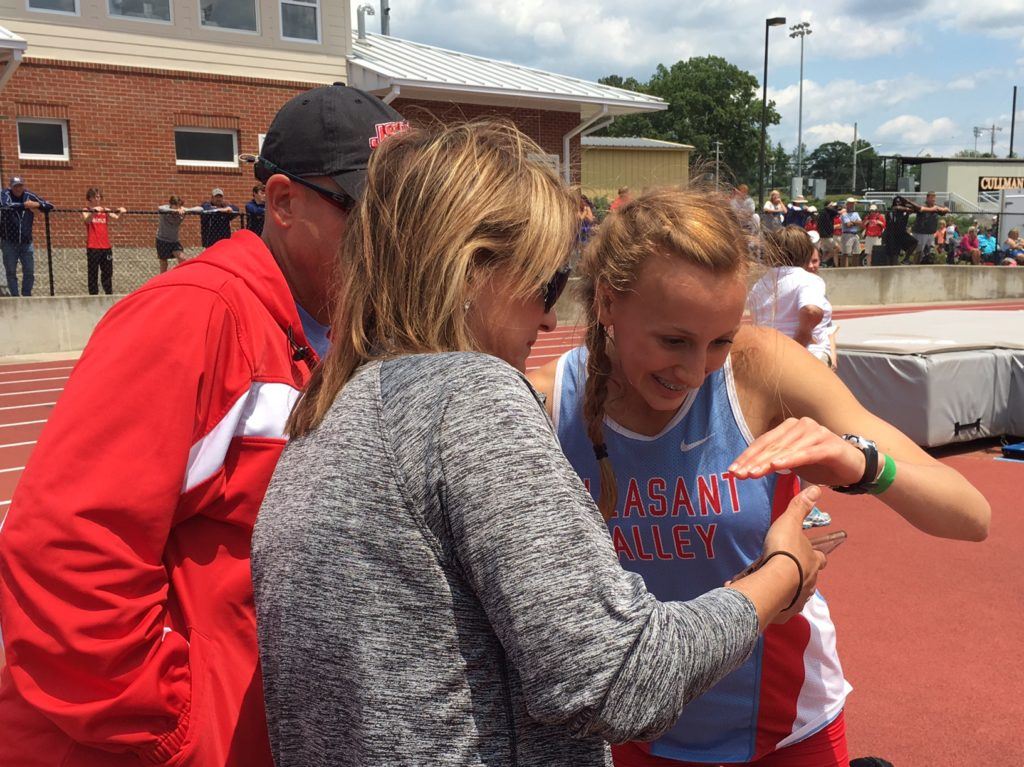 CLASS 4A-7A MEET
GULF SHORES – Anniston was tied for fifth in Class 5A boys and ninth in 5A girls after the second day of competition. In the 4A meet, White Plains' boys were tied for ninth, while Jacksonville's girls were 14th.
Individually, Jacksonville's Rebecca Hearn finished fifth in the 4A girls 3200 and Cam Horton was third in the boys 4A triple jump, Anniston's 4×800 5A relay was third .
AHSAA 1A-3A STATE TRACK MEET
Team Standings
CLASS 3A
GIRLS: Cottage Hill 42.75, T.R. Miller 33, Pleasant Valley 30, Madison Academy 23, Montgomery Academy 21, Winfield 19, American Christian 15, Bayside Academy 13, Piedmont 10, Beulah 10, Winston County 8.5, Holly Pond 8, Colbert County 5, Ohatchee 5, Pike County 5, Brindlee Mountain 4.5, Greensboro 4, Lexington 3.75, Sand Rock 3.75, Glencoe 3, Ashville 2, Pisgah 1.75, Prattville 1.
BOYS: Montgomery Academy 38, Winfield 37, American Christian 35, T.R. Miller 27, Greensboro 24, Piedmont 24, Lauderdale County 19, Cottage Hill 17, Holly Pond 15, Sheffield 13, Madison Academy 12, Weaver 11, Bayside Academy 9, Ohatchee 8, Pleasant Valley 8, Hillcrest-Evergreen 6, Brindlee Mountain 4, Abbeville 2, Colbert County 2, Lexington 1.
CLASS 2A
GIRLS (top 5): Falkville 36, Holy Spirit 25, Altamont 23, LaFayette 18, Cold Springs 16.
BOYS (top 5): LaFayette 35, Cold Spring 34, Falkville 27, Altamont 15, Mobile Christian 15.
CLASS 1A
GIRLS (top 5): St. Bernard 46.50, Whitesburg 41, Westminster-Oak Mountain 30, Cedar Bluff 28, Lynn 20.
BOYS (top 5): Marion County 56, St. Bernard 49, Linden 26.5, Shades Mountain Christian 20, Westminster-Oak Mountain 19.