Turley clutch at crunch time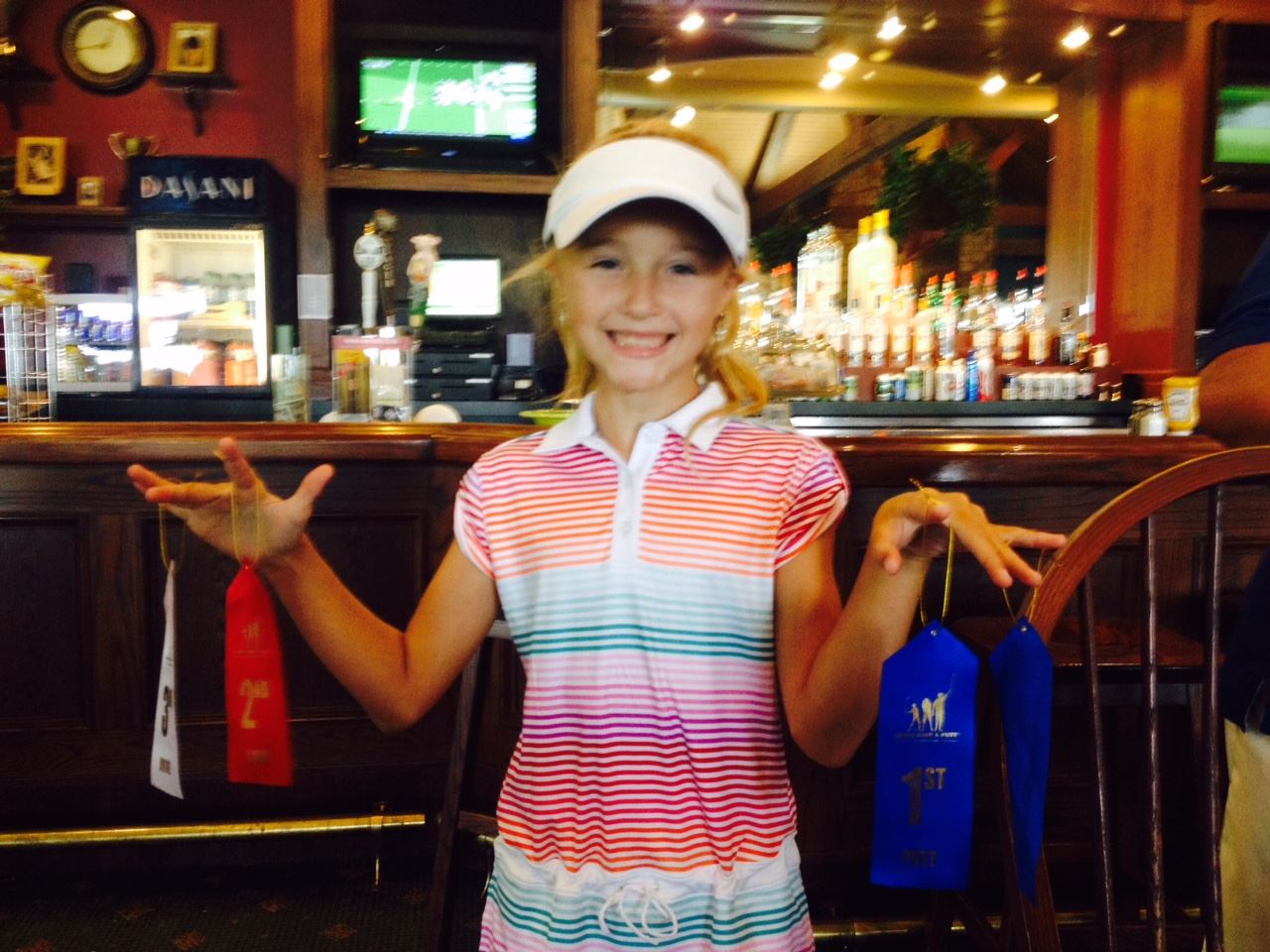 [corner-ad id=2]Oxford 9-year-old scores big on final putt to win her age group in local Drive, Chip & Putt qualifying
By Al Muskewitz
East Alabama Sports Today
SILVER LAKES – Erin Turley has learned to handle pressure on the golf course at a young age.
Needing to make a good putt on her final attempt Saturday to advance, the Oxford 9-year-old did just that Saturday and won the girls 10-11 division in the Silver Lakes qualifier for the Drive, Chip and Putt Competition.
She won her division by two points and advances to the sub-regional at Tennessee National GC in Loudon, Tenn., July 16. Those winners move onto TPC Sawgrass in September.
"I was a little bit nervous, but I knew I could do it," she said. "I didn't know that I'd do that good, so I was really excited I came in first place."
Turley, who just finished the third grade at Oxford Elementary, wasn't the only local golfer to advance. Mark Sawyer of Centre won the boys 12-13 division. He scored 137 points, winning the chipping segment (55) and finishing third in the driving segment (42).
Turley was third in the driving segment and tied for second in chipping. She trailed by seven points going into the putting. She won the putting segment, scoring 35 of her 48 points, nearly holing a five-footer and having her 20-foot final attempt finish in the 20-point ring.
She was accompanied to the event by her father Benji and Eric Cannington. Benji purposely watched from a distance while her daughter played so not to make her nervous.
"Eric told me to stay calm and I could do good," Erin said. "He told me as long as I didn't hit it six feet away from the hole I'd be OK. I remembered I had to aim left so it would come in. It got close."
This was Erin's first time playing in the Drive, Putt and Chip, a nationwide youth skills competition with the finals being staged at Augusta National on the Sunday prior to the start of The Masters. That's what has her dad excited.
"I'd love to (go), but we've got to get past Tennessee first," he said. "I've never been to Augusta because of my job; we're always so busy that time of year. That would be a great excuse for me to go."
The other girls winners included Stacy Pla (7-9), Sydney Hughes (12-13) and Lauren Cole (14-15). The boys winners included Cove McHugh (7-9), Christopher Calvani (10-11) and Ananias Bonin (14-15).
STATE AM UPDATE: Anniston's Freeman Fite shot 3-over-par 74 in Saturday's third round and stands 34th in the 99th State Amateur at Mountain Brook Club at 6-over 219.
Defending champion Will Cannon shot a 1-over 72, but still leads UAB teammate Taylor Eyster by two at 8-under 205.
QUICK START: Jay Potter of Chattanooga, a former winner and multi-time runner-up, shot 64 Saturday and grabbed the opening-round lead in the annual Chicken Dinner Tournament at LaFayette (Ga.) Golf Course.
Potter, the 1997 champ, leads by three over two-time defending champion P.J. Shields and Ty Cole, one of the top players on the Calhoun County Golf Tour.
Jay Maples, Levi Nix and Brad Beck – all LGC regulars – are another shot back.
UP NEXT: Entries are now being accepted for the RTJ Silver Lakes Championship, June 27-28, the next event on the Calhoun County Golf Tour calendar. Entry fee is $100 ($35 for RTJ Pass Holders). There are currently 42 players registered; officials are hoping for a field of 100. Call the pro shop for details (892-3268).