ICYMI: Cleaning out the notebook
[corner-ad id=2](UPDATED) Here are some items you might have missed on the local sports scene
By East Alabama Sports Today
The Anniston YMCA Blue Dolphins got their long-course season off to a fast start last week in Auburn.
The team had four Southeastern Championship qualifiers come out of the meet as Maya Montgomery won five events, Gianna Pacelli four and James Reeves and Sterling Kelly one each.
Kelly finished in the top three in seven events.
"They swam really fact for an early season meet," YBD assistant coach Johnnie Pearson said. "It is very promising because getting that many qualifying cuts in your first meet of the summer season means there are good things to come. We had three others just off their cuts, which makes them hungry and motivated."
HS BASEBALL: Falcons' big challenge
After winning the first baseball playoff series in its history last week, Donoho will travel to third-ranked Decatur Heritage for a second-round Class 1A series Friday 1 p.m. The Falcons will face a team that has yet to give up a hit in the playoffs.
"We are excited about the opportunity to play one of the best teams in the state," Donoho coach Steve Gendron said. "Playing at their place will be a challenge, but we will be prepared.
"I will stress the importance of being aggressive at the plate all week, then we will see what happens."
In the other series involving Calhoun County teams, 4A Jacksonville will host Cleburne County, 5A Alexandria travels to Mortimer Jordan and 3A Piedmont travels to Westbrook Christian.
* Speaking of Donoho, now that the Falcons' football coaching position has been filled from within, focus turns to finding a boys basketball coach. Acting athletics director Paige Faulkner said the school is reviewing applicants, some of whom expressed an interest in the basketball job during the football search.
HS TRACK: Both county champs win in Lincoln
The Calhoun County champion Piedmont boys and Anniston girls won the weekend's Lincoln Invitational.
Piedmont's boys scored 216 points and won easily. The Anniston girls scored 121 points and edged runner-up Ohatchee by 15 points.
Anniston jumper Carsheuna Curry (long, triple) and Donoho sprinter Lily Wiedmer (100, 200) were double winners in the girls meet. Other winners included Anniston's Raven Cooley (400) and Davia Palmer (300 hurdles), Jacksonville's Jazzmyn McClendon (100 hurdles), Pleasant Valley's Rachel Faucett (high jump) and 4×800 relay team, Ohatchee's Joria Steger (shot put) and Courtney Poole (javelin), and Piedmont's Megan Mohan (pole vault).
In the boys meet, Piedmont won six events and Anniston's Zebadee Lunsford pulled a triple in the distances (800, 1600, 3200). The Piedmont winners included Mitchell Benefield (100 hurdles), Cody Daughtry (200 hurdles); Will Mitchell (pole vault), Dreek Thompson (triple jump), Jaden Amberson (javelin) and the 4×100 relay. Anniston's DaMonta Miller won the long jump and Pleasant Valley won the 4×800 relay.
COLLEGE SIGNINGS: PV pair, WP catcher to sign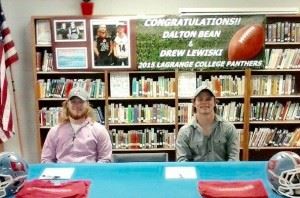 Pleasant Valley backfield mates Drew Lewiski and Dalton Bean (pictured right to left) will continue to be teammates as they are expected to sign with LaGrange College Thursday.
"I'm happy Dalton and I are getting a shot at the next level," Lewiski said. "It really is a dream coming true. It's something you think about in pee-wee ball, and now it's becoming reality.
"I'm excited and ready to work, and I know Dalton is, too."
* White Plains catcher-DH Jarrett Webb is signing with Cumberlands (Ky.) Tuesday morning in the school library.
GOLF: Tournament entries, results and club officers
* Entries are being accepted for the Wilfred Galbraith Invitational at Anniston Country Club, the third event on the Calhoun County Golf Tour schedule, May 15-17.
Entry fee is $200 ($150 for ACC members); it'll be $30 more for registrations after May 6.
* The Cider Ridge Invitational, the second CCGT event of the year, is this weekend. Entries are still be accepted through the early part of the week. Entry fee is $135. Call the pro shop (831-7222) for details. Gary Wigington won the first event of the season, the King of the Hill at Anniston Municipal.
* Entry forms are out for the Cane Creek-Fort McClellan Credit Union Pro-Invitational June 5-7. Entry fee is $150 for amateurs ($110 for Cane Creek cardholders) and $300 for the pros. Call the pro shop (820-9174) for details.
* In a four-hole playoff, but Freeman Fite and Brian Woodfin defeated reigning Sunny King Charity Classic champions Ryan Howard and Lance Evans to win ACC's Member-Member. Bob Kennamer and John Carrozza won the net division in a playoff over Chase Thomas and Dale Burgess. Cypress Hathorn and Richard Turner also were in the playoff and finished third.
* Rick Dickson has been reelected as president of the Cane Creek Golf Association. The other officers include Jeremy McGatha (vice president), Mike Fincher (secretary), Amos Kirkpatrick (treasurer). The elected committee chairs include Doug Spoon (maintenance assistance), Clay Calkins (tournaments), John McKenzie (membership), Bob Mosakowski (fundraising) and Ed Kimbrough (community relations).