Wellborn sweeps Weaver
UPDATED: Panthers win suspended game, sweep doubleheader to move closer to Class 3A playoff spot
By Al Muskewitz
East Alabama Sports Today
WEAVER/WELLBORN — Mason Screws had just helped the Wellborn baseball team take care of business on the field and was headed to the press box to reap the rewards.
The Panthers just swept Weaver 9-8 and 10-2 Friday to grab the current No. 2 spot in Class 3A Area 12. After being recognized on the field, Screws and the team's four other seniors were off to a more intimate gathering in their honor.
"We had a good day out here today," said Screws, a senior first baseman. "We got our job done here and now we get to go have a little fun with our families and friends. It'll be a good day."
The five seniors — Screws, second-game winning pitcher Landon Machristie, third baseman T.J. Salers, first baseman Jeremiah Farmer and outfielder Kevin Mixon — were feted with individual cakes, a goodie bag and a shadowbox collage commemorating their careers.
"Me and a couple other players have had a Senior Day for football, basketball and, now, baseball, and they've all been great," Machristie said, "because we've got this great community behind us."
Head coach Shane Harrell said their presence made his first year at the Wellborn helm an "absolute joy." He's confident with them on the job the Panthers will be "in the zone" when they look to clinch a playoff spot next week against Pleasant Valley.
But first they had to get past the Bearcats. The 9-8 game was the completion of a suspended game that started Tuesday at Weaver and was moved to Wellborn because of wet conditions. It was, in effect, the longest game in the history of the two programs.
And it was a dogfight. The Panthers took the lead for good with three runs in the seventh inning and held off a Weaver rally in the bottom of the inning to win.
"It was tough (getting that final out)," winning pitcher Brandt Denham said. "We've been battling all day."
Machristie's two-run single to left gave Wellborn an 8-7 lead in the seventh. Salers followed with a super-high infield pop that fell for a single drove in what proved to be the winning run.
Salers called it the highest single he'd ever hit in his life.
"It looked like it was going to bring rain," Harrell said.
No one would have welcomed that, given all the bad weather that already has disrupted the schedule this season.
Weaver took a 6-4 lead with three runs in the fourth. Wellborn tied it with single runs in the fifth and sixth. Josh Langley's sacrifice fly put the Bearcats ahead 7-6 in the home sixth.
Denham had three hits in the game, including a homer at Weaver before the suspension and a double at Wellborn, and gave up one hit in four innings of relief to get the win. Machristie, Salers, Blake Hanson and Jordan Montgomery each had two hits.
Both coaches said the emotional release of the first game impacted the second.
The Panthers came back from an early 1-0 deficit to win the second game. They scored three in the home first and three in the third.
Screws had three hits in the game.
"The first one was a heartbreaker," Weaver coach David Beegle said. "I think it took the air out of us a little bit. You drop a 9-8 game when you led most of the ballgame, it's tough.
"But that's something that's kind of good for us to be in that situation with a bunch of young guys so maybe when they get to be old guys and experienced they'll know how to handle it a little better, hopefully."
One of the highlights for Weaver was Jake Garrick's play. Garrick went 4-for-4 in Game 2, 5-for-5 with three walks in the doubleheader after striking out in his first at-bat, and kept the Bearcats in the opener from the mound until tiring in the seventh.
"Individually, I had a good day, but it's not about the individual, it's about our team coming together and having a good game," Garrick said. "The first game we gave them a fight, but the second game I guess our heads weren't where they were supposed to be and we took the loss."
Wellborn 9, Weaver 8
Wellborn 130 011 3 — 9 15 5
Weaver 012 301 1 — 8 5 3
Ethan Beadles, BRANDT DENHAM (4) and Jacob Shears; JAKE GARRICK, Tyler Perez (7) and Deon Monroe. 2B: Brandt Denham (Wel). T.J. Salers (Wel), Jaylun Kelley (Wel), Kevin Mixon (Wel). HR: Brandt Denham (Wel). WP: Denham. LP: Garrick.
Wellborn 10, Weaver 2
Weaver 101 000 0 — 2 6 3
Wellborn 303 220 x — 10 9 0
JOSH LANGLEY, Cody Ortiz (3) and Nick Souder; LANDON MACHRISTIE and Jacob Shears, Mason Screws (4). 2B: Jake Garrick (Wea) 2, Mason Screws (Wel), Kevin Mixon (Wel). WP: Machristie. LP: Langley.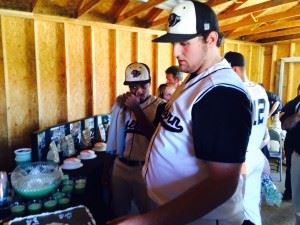 Piedmont 14, Pleasant Valley 6
JACKSONVILLE — Piedmont scored a lot early and a lot late in rolling over the Raiders.
The Bulldogs opened an 8-0 lead after three innings and then scored three in each of the last two innings.
They hit five doubles in the game. Derick Baer hit a two-run double in the first inning and Cale McCord hit one in the sixth.
The top of the Bulldogs' lineup — winning pitcher Bayley Blanchard, reliever Tyler Lusk, Peyton Whitten and Easton Kirk — all had multiple-hit games. They were a combined 10-for-18 with six RBIs.
Five Piedmont hitters had two RBIs each.
R.J. Simpson went 2-for-3 with two RBIs for the Raiders.
Piedmont 14, Pleasant Valley 6
Piedmont 431 003 3 — 14 15 3
Pleasant Valley 000 204 0 — 6 5 3
BAYLEY BLANCHARD, Tyler Lusk (6) and Derick Baer, Blanchard (6); NICHOLAS HOWARD, Kristopher Emerson (4) and Kasey Cochran. 2B: Tyler Lusk (P), Peyton Whitten (P), Easton Kirk (P), Cale McCord (P), Derick Baer (P), R.J. Simpson (PV). WP: Blanchard. LP: Howard.