Sacred Heart slays the giant
Class 1A school routs 6A Oxford by 22, reaches semifinals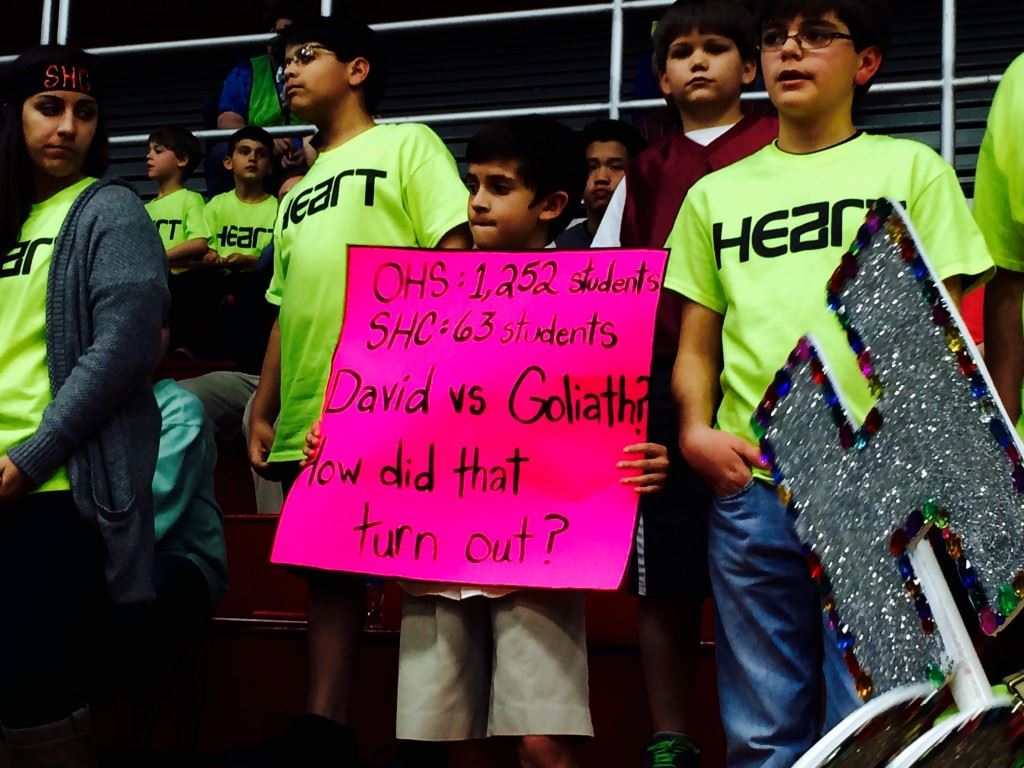 By Al Muskewitz
East Alabama Sports Today
JACKSONVILLE — The Sacred Heart student section behind the near-side goal was awash in florescent green tee shirts. It made the best sign of the tournament so far stand out even more.
In the middle of that lime-green sea was a small boy holding this sign on fuchsia paper: OHS 1,252 students, SHC 63 students … David vs. Goliath … How did that turn out?
Could the message be any clearer? Size doesn't matter, at least when it comes to producing basketball teams.
Sacred Heart, the smallest school in the field, took out the biggest school in town Wednesday, beating Oxford 55-33 to reach the boys semifinals of the Calhoun County Tournament. The third-seeded now No. 4-1A Cardinals (17-8) play second-seeded No. 6-4A White Plains Friday at 8:30 p.m.
"Everybody just thinks that since we're a 1A school you're supposed to lay down," sophomore guard Kevion Nolan said. "That's how it's been. All 1A schools have been drubbed in the county and no one ever comes up to compete against them.
"We feel like we were the better team and if we just feel like that nobody in the county can beat us. No matter how big your school is, if you're players are not better than our players that we put out on the floor we'll beat them and that's what we proved today."
The Yellow Jackets (8-16) aren't the first team from a school of size the Cardinals have beaten this year. They've taken out Hapeville Charter and Grady out of Georgia and Carver-Birmingham. They cut a 25-point deficit against Gadsden City, one of the largest schools in the state, to three with three minutes to play in their season opener and were up 13 on J.O. Johnson before losing that one.
Cardinals coach Ralph Graves has never really looked at the digits in front of an opponent's name. The only numbers he's interested in are the ones that team can put on the scoreboard. Both schools in any game are going to put a collection of players on the floor and hats will go off to the one that has the better day.
"If we look at it like the size of school, it makes it seem like we're inferior and they're superior," Graves said. "It's a basketball team – they're going to put their players on the floor, we have to outplay and out-execute them. It doesn't matter the size of the school."
It never has to Oxford coach Joel Van Meter. The Cardinals beat his team in last year's tournament semifinals — on a last-second shot. This time it was much more one-sided.
"I don't think classification has anything to do with the game of basketball," Van Meter said. "I'm from Kentucky, which is the only state that still has a true state champion regardless of classification. I've seen numerous small schools compete at a high level in that state. The key is having good players.
"They have very good players who are able to compete at a high level. Talent is talent. All classification refers to is the number of kids in a school. When you have talent on the floor every night you put yourself in position to win consistently."
The Cardinals started out fast in this one, allowed the Yellow Jackets to catch back up then, as if they were mad at being caught, turned on the burners.
They led 14-2 at the quarter, but then got a little loose and Oxford took advantage of it to score the first 10 points of the second quarter and eventually tie it at 18. The Cardinals responded by scoring the last 11 points of the half – and missed several layups that could've given the at least four more – to lead 29-18 at the break and then the first 12 points of the third and 21 of the first 24.
"We weren't playing to our capability," D.J. Heath said of the second-quarter lull. "Our standards are high. We had a couple of downfalls, but we picked ourselves up. Coach Ralph told us they were going to come out punching us and we had to punch back and that's what we did. We fought back."
Besides drawing even after falling behind early, perhaps the biggest highlight for Oxford in the game came at the end when Jakolbie McClendon heaved and hit a three-quarters court shot at the buzzer for the final margin. McClendon was the Jackets' scoring leader — for the third game in a row — with 11 points.
The Cardinals, meanwhile, got scoring from everywhere. Nolan scored 16, while Heath and Kavarri Ross had 13 apiece. Nolan had a three-point play and a 3-pointer in run to the end of the half and had a 2 and a 3 on back-to-back trips to answer Oxford's first basket of the third quarter – a 3-ball by Jacob Baker.
"Our motto all year has been we're all we've got and we're all we need," Nolan said. "When we play big teams … one of our leaders will get up and say they're going to come in with their crowd and we know they're going to be a bigger team and they're going to expect (to win) and underestimate us. So, when we hit them in the mouth and we score and we defend and do everything we're supposed to do we know they are shocked."
It's just not getting to be a surprise anymore when the Cardinals win playing up. They already regularly destroy the 1A teams they play by 30 and they've long ago said they want to beat the teams they play in the county by 20.
"If there's anybody in 1A that can beat them, I sure what to see it," White Plains coach Chris Randall said. "That's a special group of athletes, special. They're as good as any 5A, 6A … it doesn't matter … he doesn't care. There's no A about them. They're just a basketball team."
Sacred Heart 55, Oxford 33
SACRED HEART (17-8) — Diante Wood 4 1-2 9, Kavarri Ross 5 0-0 13, D.J. Heath 2 7-8 13, Kevin Nolan 5 3-3 16, Keith Orlowski 0 0-0 0, Jackson Orlowski 0 0-0 0, Samuel Miller 2 0-0 4. Totals 18 11-13 55.
OXFORD (8-16) — Kaleb Kidd 3 1-1 7, Jalen Moore 2 3-4 8, Querriun Mason 0 2-2 2, Jakolbie McClendon 4 2-2 11, Jacob Baker 1 0-0 3, Chris Jarmon 1 0-0 2, Blaize Brimer 0 0-0 0, Zack Lackey 0 0-0 0. Totals 11 8-9 33.
Sacred Heart 14 15 21 5 — 55
Oxford 2 16 5 10 — 33
3-point goals: Sacred Heart 7 (Ross 3, Heath 2, Nolan 3); Oxford 3 (Moore, Baker, McClendon)
Total fouls: Sacred Heart 6, Oxford 10. Officials: Hughes, Ortiz, Washington.
CALHOUN COUNTY BOYS BASKETBALL TOURNAMENT
(All games at Pete Mathews Coliseum, Jacksonville)
First-round games
No. 8 Jacksonville 70, No. 9 Jacksonville Christian 38
No. 5 Saks 73, No. 12 Pleasant Valley 20
No. 4 Anniston 74, No. 13 Ohatchee 30
No. 3 Sacred Heart 70, No. 14 Donoho 29
No. 6 Oxford 67, No. 11 Faith Christian 36
No. 10 Piedmont 62, No. 7 Weaver 59
No. 2 White Plains 80, No. 15 Wellborn 70
Second-round games
No. 1 Alexandria 71, Jacksonville 60
Anniston 60, Saks 52
Sacred Heart 55, Oxford 33
White Plains 67, Piedmont 45
Semifinal games
Alexandria vs. Anniston, Friday, 5:30 p.m.
Sacred Heart vs. White Plains, Friday, 8:30 p.m.
Championship game
Alexandria-Anniston winner vs. Sacred Heart-White Plains winner, Saturday, 8 p.m.