Friday night roundup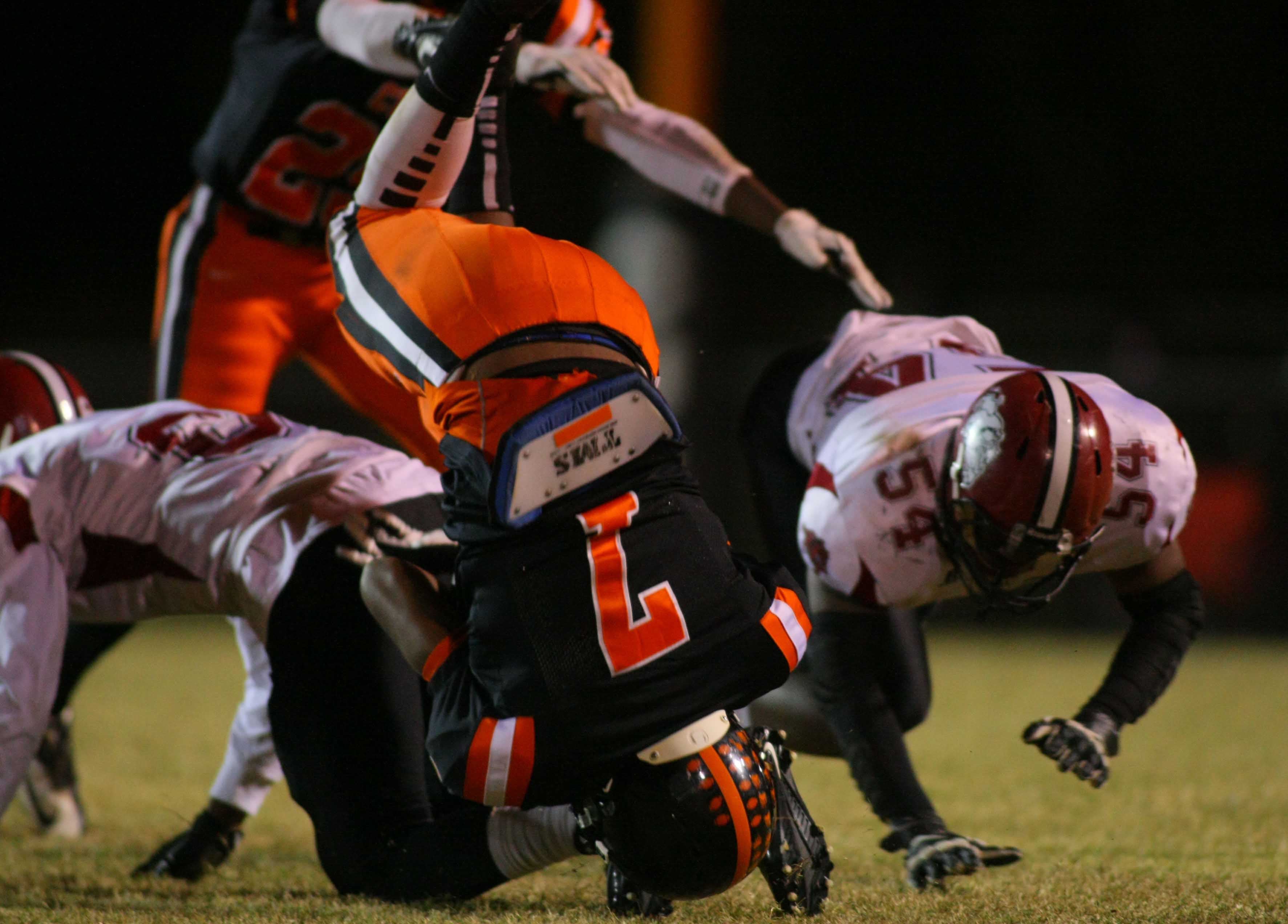 Alexandria gets past Anniston; Central-Clay wins big
By East Alabama Sports Today
Alexandria wasn't as prolific offensively as it had been the previous two weeks, but the Valley Cubs did enough to get past Anniston 22-14 and seal the third playoff spot out of Class 5A Region 6.
Tyrelle Gay was all over the field for the Valley Cubs (5-3, 4-2). He scored their first and go-ahead touchdowns, then sealed the victory with an end zone interception in the final 15 seconds.
Gay's 2-yard run opened the scoring. Anniston quarterback Quint Dobbins earned the Bulldogs an 8-8 halftime tie with a 3-yard run and conversion pass to Tae Miller seconds before the break.
Jermaine Ackles put the Bulldogs (2-6, 2-5) ahead with a 2-yard run, but Alton Davis retied the game later in the third quarter with a 6-yard touchdown.
Gay put the Cubs on top for good with his second touchdown and Luke Tucker hit Chase Smitherman with the conversion pass for the final points.
Dobbins completed 6 of 15 passes for 110 yards and rushed for 35 yards on nine carries. Ackles was Anniston's leading rusher with 82 yards on 12 carries. Miller caught six passes for 70 yards.
Jamal Tucker had 103 yards rushing for Alexandria, which has won back-to-back games in the series with Anniston for the first time since the series resumed in 2008.
Alexandria concludes its regular season at Cherokee County. That game has been moved to Thursday. The Warriors will celebrate the fifth anniversary of their 2009 Class 4A championship with a pre-game reunion and a ceremony at halftime.
Anniston wraps up its season Friday at Fort Payne.
Central-Clay County 55, Talladega 0
LINEVILLE – The Volunteers celebrated Senior Night in a big way, running at will, playing opportunistic defense and clinching at least a share of the Class 5A Region 3 title with Tallassee and Beauregard.
The Vols had seven takeaways in the game. They coverted the first five into touchdowns en route to a 42-0 lead. Jaylon Lyles scored off two of them, while Quasi Jennings, D.J. Ford and Peyton Reynolds scored off the others.
Each of the first four touchdowns were set up by a takeaway – three interceptions and a fumble recovery.
The Vols amassed more than 400 yards rushing. In the third quarter alone, they outrushed the Tigers 168 yards to 8.
Class 3A, Region 6
The first three playoff spots in this region and well defined; the final spot in a tangled mess.
Pleasant Valley, Weaver and Westbrook Christian all have a shot at it and it could all come down to the results of the upcoming week's non-region games.
On Friday, Pleasant Valley and Weaver both suffered big shutout losses while Westbrook pounded Ashville. It left them all 3-4 in the region.
If Pleasant Valley beats Gaston, the Raiders are in for the first time since 2010 and fifth time in school history and the first. If they lose and Weaver beats White Plains and Westbrook loses to No. 5 Ranburne, Weaver is in for the second year in a row.
"It'll take care of itself," PV coach Jeff Davis said.
If all three remain tied after Friday's games, it comes down to a coin flip.
"I had it in basketball and I didn't really like it," Weaver coach Daryl Hamby said of the coin toss. "I don't remember how it went, I just know I hated it. All I know is we've got to win; that's how we're approaching it."
Friday's Calhoun County Scores
Alexandria 22, Anniston 14
Donoho 48, Appalachian 0
Saks 36, Jacksonville 7
JCA 47, Waterloo 8
Wellborn 64, Ohatchee 21
Oxford 31, Chelsea 21
Piedmont 42, Weaver 0
Glencoe 56, Pleasant Valley 0
Cherokee Co. 37, White Plains 31
Area Games
Central-Clay Co. 55, Talladega 0
Cleburne Co. 35, Hokes Bluff 14
Ranburne 35, Woodland 14
Moody 27, Lincoln 26
Next Week's Calhoun County Games
Thursday's Game
Alexandria at Cherokee County
Oct. 31
Anniston at Fort Payne
Donoho at Coosa Christian
Verbena at JCA
Ohatchee at Ragland
Decatur at Oxford
Piedmont at Oneonta
Pleasant Valley at Gaston
LaFayette at Saks
Weaver at White Plains