'It was a special day'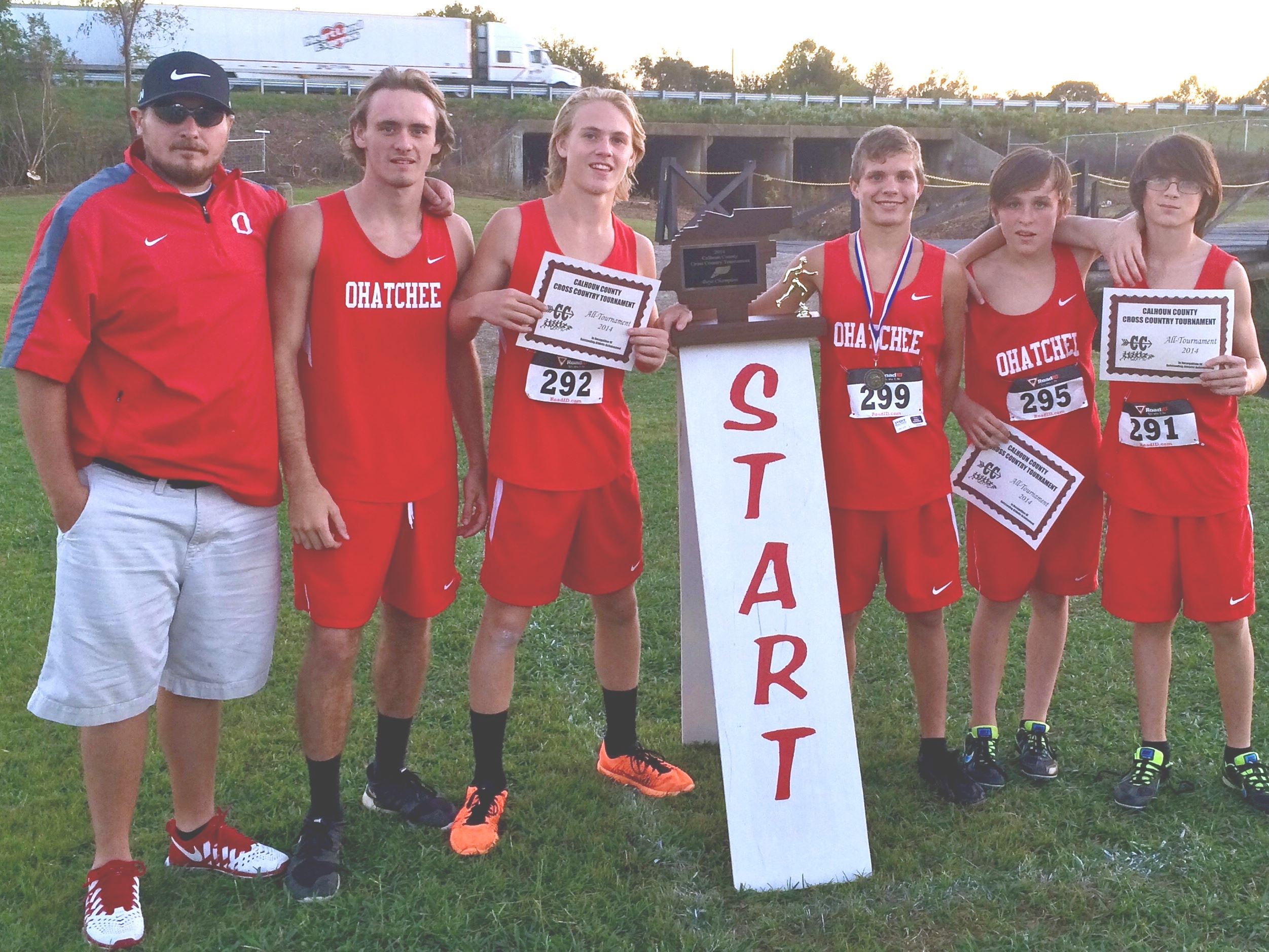 Ohatchee's second-year boys program wins Calhoun County Cross-Country Championship
MORE COVERAGE
Jacksonville's Hearn wins girls race
PV fills missing piece in trophy case
Anniston's Lunsford makes history
By Al Muskewitz
East Alabama Sports Today
OXFORD – It was probably a good thing Ohatchee cross country coach Casey Howell was wearing dark sunglasses. It was a lot easier to hide the tears of joy he was trying to hold back after the race.
Howell's young boys team pulled off the second upset of the day when it placed four runners in the top 10 point-getters and won the Calhoun County Boys Cross Country Championship Tuesday in just its second year of existence.
The Indians scored 43 points. Pleasant Valley was second with 48 points, followed by pre-race favorite Oxford (80) and Alexandria (98). Faith Christian (152), Saks (155), Jacksonville (175) and White Plains (188) completed the team field.
"I didn't expect that one," Howell said. "I'm a match teacher, I just look at mathematics in this; when I hit the results button it was not what I expected. I did the math in my head and thought we finished third. It was a special day, I guess one everybody dreams of, right?
"In reality, they don't understand what they just did. It probably won't hit them until they're seniors graduated, older on. That's kind of what I told them. The pain will last five, 10 minutes after the race, but what you can make – the memories – will last forever."
Eighth-grader Jimmy Wilson led the Indians' charge with a courageous second-place finish that was first among scored runners (18:11.77). Sophomore Jackson Henry was sixth overall (19:01.94), eighth-grader Gabe Hammonds ninth (19:33.72), eighth-grader Blake Noah 10th (19:39.64). Lone senior Dalton Crider finished 20th (20:20.03).
Anniston junior Zebadee Lunsford won the boys race, but the Bulldogs didn't enter enough runners to create a team.
Hammonds, Noah and Crider – all seeded between 16th and 31st entering the race — all ran faster than their previous best times this season, Hammonds by 46 seconds, Noah by 15 and Crider by 45.
"It is amazing," Howell said. "I told them before the race if they hit their marks we would have a chance. They did everything we could have asked for."
It was the Indians' second win of the season and provides valuable momentum and confidence heading into Sectionals. They scored the first win in their program's short history earlier this season at Scottsboro, but Howell said that was "no comparison" to Tuesday's success.
"Our slogan has been for the last two weeks 'Five months for three races,'" Howell said, referring to the County, Sectionals and State meets. "We've been running for five months for the last three."
Calhoun County Cross County Championship
At Oxford Lake Park
BOYS RACE
Team scores
Ohatchee 43 (1-5-8-10-19)
Pleasant Valley 48 (3-7-9-12-17)
Oxford 80 (4-6-18-25-27)
Alexandria 98 (2-11-15-34-36)
Faith Christian 152 (13-24-28-42-45)
Saks 155 (14-16-38-40-47)
Jacksonville 175 (26-31-33-41-44)
White Plains 188 (21-35-39-43-50)
Winner: Zebadee Lunsford, Anniston (18:06.02)
Runner-up: Jimmy Wilson, Ohatchee (18:11.77)