Campbell gets back in the game
UPDATE: Former coach leads the 5K field on Masters Games' final day
By Al Muskewitz
East Alabama Sports Today
OXFORD – Fred Campbell came to the Masters Games 5K looking for someone to follow so he could more easily negotiate the course. The field ended up following him.
The 62-year-old former high school cross country coach came out of running retirement Thursday – after 31 years "doing other stuff" – and led the 20 seniors who competed across the line in 24 minutes, 27 seconds.
The last race he ran before Thursday was the Boston Marathon – in 1983.
"God gave me good health and I thought I can still do this," Campbell said. "At our age, God gives you good health, do something with it."
The Delta resident was a strong runner in his youth. He ran a 4:49 mile as a high schooler in Hokes Bluff and completed Boston in 2 hours, 47 minutes. He coached cross country at Westside High School in Macon, Ga.
He got back into the sport only a couple months ago, and then his restart was delayed by a mission trip to Brazil and flood relief in New York.
While the Games only awards medals in age divisions, Campbell was the fastest overall male by 60 seconds; 66-year-old Charlie Browning of Pell City was second. Connie Edwards of Alpine was the first woman across the line at 41:20.
While Campbell was running for the first time in three decades, Browning has been running only two years. Thursday was his best 5K time this year, but he has run in the 23s before.
"I had bypass surgery eight years ago and I decided I'd better get up off my can and start doing something," he said. "I started riding bicycles a bunch and bicycles are no fun in the winter time. Our church started a Run For God program and I got involved in it, ran my first 5K and liked it."
He ran another then moved up to the half-marathon and then took on full-bore marathons in Pensacola (winning his age division) and Mobile. He now is training for the New York City Marathon.
On Thursday he was just trying to keep pace, but there was a sizeable gap when the leaders were on the far side of Oxford Lake.
.
"I was trying to keep up with that fella right there," he said, nodding toward Campbell, "and I realized I'm overstretching myself just a little bit and I'd better throttle back.
"You've got this tendency to try to pace yourself with somebody and I wanted to hold up close enough to him that there was a hope and a prayer that I might be competitive with him coming across that line. I started to huff and puff at about a mile there and I said I'd better back down a little. As I backed off a couple, 10 seconds a mile he started gaining on me."
Everyone in the Masters Games has their own motivation for participating. Thelma Hinton of Lincoln celebrated her 83rd birthday in the 5K and was proud she wasn't the "cat's tail" in the field.
It was her seventh event in this year's Games. She medaled in three of them, taking first in table tennis and second in the softball throw.
"I walked more than I ran," she said of the 5K. "But it's very important to stay active, because if you sit too much you get stiff. (Since the passing of her husband last September) I've sat more than I should have. I'm walking two miles most every day."
The Games wrapped up Thursday with the 5K, dominoes doubles and men's and women's billiards.
Pam Harris, the Oxford PARD's program coordinator and Masters Games board member, admitted she was a "little nervous" in the run-up to the Games returning to the place they began for the first time in 15 years. Organizers wanted to make sure everything went off without a hitch.
There have been few complaints. It is anticipated the Games will return to Oxford for their 25th playing next year.
"As of this morning, everything may not be perfect but we have done the best job we possibly could," Harris said. "Everybody has been wonderful. The only reason we do this is for these seniors. Everything has been great and these long hours and long days have been definitely worth it to see the smiles on their faces. We're very pleased with how everything went."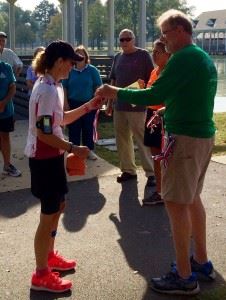 RESULTS
MASTERS GAMES 5K RUN
(Medals awarded in individual age divisions)
Fred Campbell, Delta (M 60-64) 24:27
Charlie Browning, Pell City (M 65-69) 25:27
Larry Ballard (M 70-74), Gadsden 27:58
Rich Bingel (M 60-64) 28:05
Ken Reisel, Daphne (M 65-69) 36:40
Connie Edwards, Alpine (F 60-64) 41:20
Rick Callahan, Pell City (M 50-54) 44:03
Charles Funderburg, Oxford (M 60-64) 46:04
LuLa Echols, Fairfield (F 70-74) 48:42
Freddie Williams, Muscle Shoals (M 65-69) 48:57
Gretchen Carter, Mobile (F 65-59) 46:56
Dorothy Turnbow, Verbena (F 65-69) 49:36
Judy Rabren, Robertsdale (F 65-69) 49:36
Frances Nelson, Heflin (F 75-79) 50:30
Barbara Goodman, Heflin (F 75-79) 53:46
Thelma Hinton, Lincoln (F 80-84) 54:46
Melvin Ford (M 85-89) 59:28
Ramon Cordova, Bynum (M 75-79) 59:30
Matthew Nguyen, Robertsdale (M 70-74) 63:02
Sarah Bain, Heflin (F 70-74) 63:06
BASKETBALL FREE THROW
Men's Division
(30 attempts in 3 rounds of 10)
50-54 – Steve McFarland 21, Eric Todd 3, Hamilton Edwards 3.
55-59 – Danny Howell 2.
60-64 – George Stone 23, David Nolen 19, Russell Paulson 15.
65-69 – Gary Brown 19, Bobby Ellis 18, x-Wayman Grant 15. x-won in second round of five-shot playoff (1-0).
70-74 – Bill Laskoski 20, x-William Lane 12, Charles Nedrow 12. x-won in first round of five-shot playoff (1-0).
75-79 – Fred Ponder 28, Earnest Lee 24, Sam Hawkins 24.
80-84 – Gene Hertzog 19, Gene Ross 10, Charles Prescott 9.
85-89 – Horace Plemons 26.
90-above – Rex Aldridge
Ladies Division
(21 attempts in 3 rounds of 7)
55-59 – Sylvia Childs 10, Alphelia Smith 8, Sandra Weyerman 3.
60-64 – x-Beth Moore 9, Jennifer Garrett 9, Madeleine Laskoski 8. x-won in fourth round of five-shot playoff (10-8)
65-69 – Sue Campeaux 18, Jane Sparrowhawk 13, Judy Rabren 11.
70-74 – Joyce Stacey 9, Alice Pesto 8, x-Doris Suttles 7. x-won in first round of five-shot playoff (3-0)
75-79 – Frances Nelson 12, Iris Ethridge 9, Allee Johnson 7.
80-84 – Doris Lashley 9, Annie Minnifield 8, Betty Quillin 7.
85-89 – x-Cordie Bell Green 5, Louise Smith 5. x-won in first round of five-shot playoff (1-0)
90-above – Ida Robertson 2.
BOWLING
Men's Division
50-54
Donald Chapman 147-162-273—582
55-59
Sammy Booker 171-173-157—501
Royce Duncan 113-147-129—389
60-64
Terry Brantley 226-183-196—605
Larry Brantley 202-171-205—578
William Fowler 175-120-159—454
65-69
David Atkinson 228-229-187—644
Ronald Slagle 182-142-180—504
Johnny Harper 171-182-149—502
70-74
Richard Gravelin 191-196-206—593
Thomas Brantley 186-149-185—520
Claude Pendergrass 157-161-198—516
75-79
Eugene Blyar 192-150-200—542
James Manning 157-169-172—498
Johnny Payne 183-194-116—493
80-84
Howard Foster 176-155-208—539
Joseph Barnes 180-158-158—496
Donald Andrews 153-172-153—478
85-89
James Woodley 143-112-165—420
John choquette 98-153-135—386
Frank Woodley 109-138-114—361
Ladies Division
55-59
Mary Kuhn 137-155-146—438
Myra Fields 160-113-163—436
Wynetta Hogan 58-80-74—212
60-64
Anaceta Gravelin 145-173-176—494
Pat Ford 156-174-156—486
Betty Williams 131-144-178—453
65-69
Zelda Turner 167-180-178—525
Nancy Brooks 139-165-187—491
Linda Slagle 118-159-177—454
70-74
Daisy Baxter-Glass 139-169-158—466
Ramona Collins 121-131-155—407
Sharon Andrews 139-117-148—404
75-79
Mattie Stevenson 143-164-158—465
Juanita Jenkins 153-142-166—461
Mary Winslett 143-149-135—427
80-84
Bonnie Dove 137-146-152—435
Jewell Mitchell 142-119-98—359
Joyce Ottinger 125-110-102—338
85-89
Martha Estes 149-118-155—422
Jean Waddey 113-124-133—370
Olivia Gray 106-131-130—367
BILLIARDS
Men's Division
55-59: James Foster
60-64: Russell Paulson
65-69: Terry Hoobler, Hank Fisher
70-74: Lee Strickland, Samuel Whatley, Harold Barker
75-79: Fred Ponder, Travis Auiler, Otha Rayburn
80-84: Jerry Ledbetter, James Pippenger
85-89: Floyd Bradford
90-above: Milford Jackson
Ladies Division
60-64: Anne Godfrey, Sarah Duncan, Regina Emerson
65-69: Dorothy Smith, Ruth Stanley, Dorothy Reisel
70-74: Dee Parsons, Marion Jensen
75-79: Mary Winsett, Carolyn Stetter
FRISBEE TOSS
Men's Division
50-54: Hamilton Edwards, Steve McFarland, Eric Todd
55-59: James Foster, Royce Duncan, Danny Howell
60-64: Michael Smith, Steven Frazier, Russell Paulson
65-69: Gary Brown, Terry Hoobler, James Pritchett
70-74: Robert Turner, Bill Eisele, Jerry James
75-79: Earnest Lee, Floyd Aikens, John Dial
80-84: Charles Williams, Jerry Ledbetter, Clarence McGinnis
85-89: Horace Plemons, Wallace Bowman
Ladies Division
50-54: Shelia Bennett
55-59: Charlene Bice, Mary Kuhn, Sylvia Childs
60-64: Regina Emerson, Madeleine Laskoski, Lucy Stafford
65-69: Jane Sparrowhawk, Jackie Smith, Gretchen Carter
70-74: Joyce Stavey, Doris Suttles, Ann Ligon
75-79: Frances Nelson, Mary Zachary, Vornceal Steer
80-84: Annie Minnifield, Naomi Moore, Irene Sanders
85-89: Faye Williams, Louise Smith, Martha Hill
90-above: Charlene Cooper, Ida Robertson, Maurine Harmon
NERF TOSS
Men's Division
50-54: Steve McFarland, Eric Todd, Hamilton Edwards
55-59: Sammy Booker, James Foster, Danny Howell
60-64: Steven Frazier, David Nolen, Michael Smith
65-69: Gary Brown, Wayman Grant, Bruce Rivers
70-74: Samuel Whatley, Bill Eisele, Bill Laskoski
75-79: Earnest Lee, Henry Campeaux, Charlie Morrison
80-84: Gunther Sigle, Clarence McGinnis, Jerry Ledbetter
85-89: Horace Plemons, Wallace Bowman
90-above: Rex Aldridge
Ladies Division
50-54: Shelia Bennett, Antoinette Davis
55-59: Sylvia Childs, Debbie Brown, Mary Kuhn
60-64: Julia Suggs, Regina Emerson, Beth Moore
65-69: Jane Sparrowhawk, Sue Campeaux, Lottie McCullough
70-74: Linda Turner, Joyce Stacey, Doris Suttles
75-79: Barbara Goodman, Frances Nelson, Elizabeth Howell
80-84: Betty Quillin, Naomi Moore, Sarah Plemons
85-89: Faye Williams, Cordie Bell Green, Nelline Hale
90-above: Charlene Cooper, Ida Robertson, Maurine Harmon