Players learn, enjoy FootGolf experience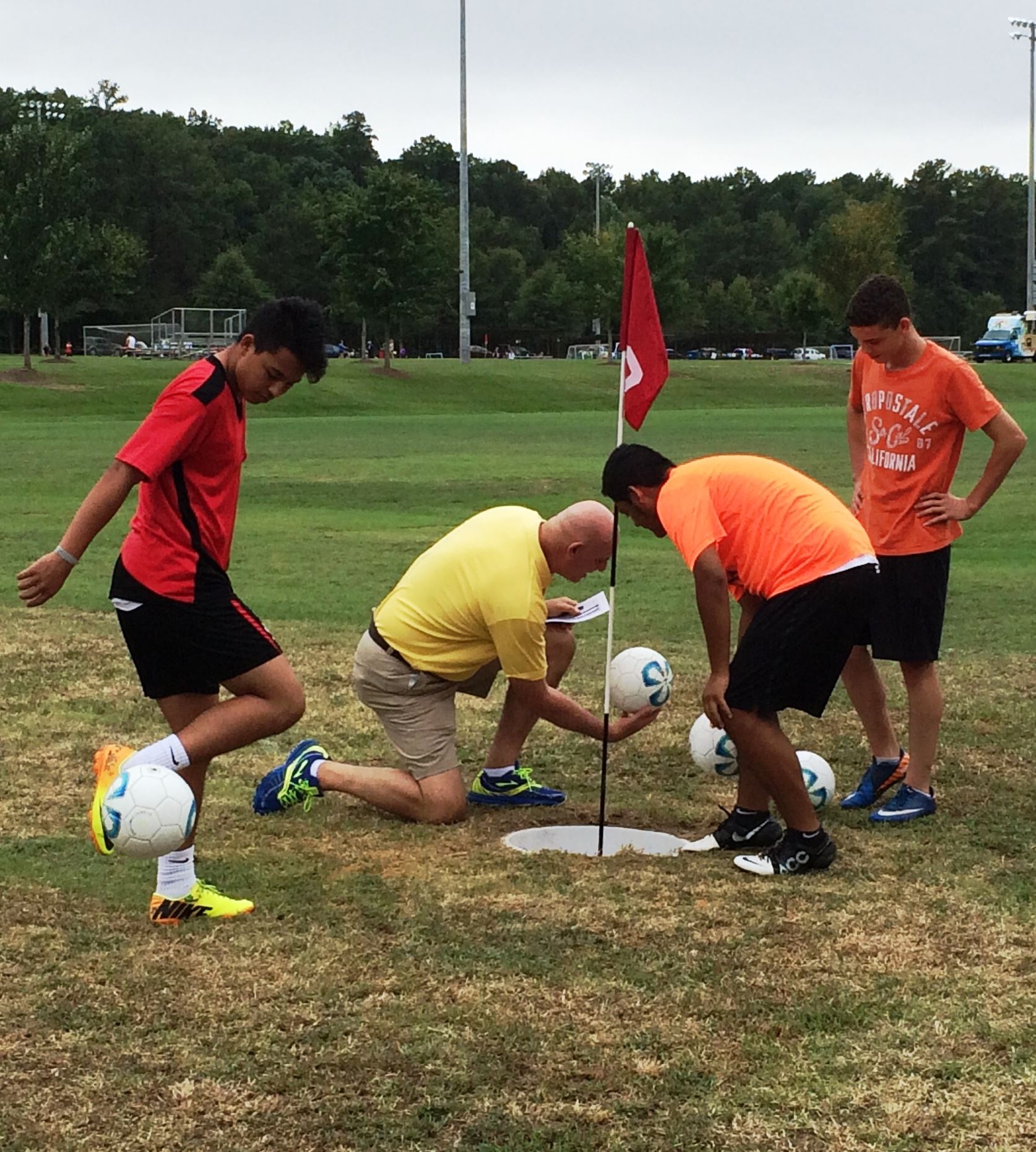 By Al Muskewitz
East Alabama Sports Today
Pete Eschrig made his way up to a field where small groups of players were getting loose for their soccer games hoping to interest them in a go at FootGolf.
The players didn't know what to make of it at first, but with some time to kill before their games they figured it was worth a look.
A turn on the three-hole course adjacent to the soccer fields at McClellan with Eschrig, a former Donoho girls soccer coach who works in the pro shop at the Cane Creek Golf Course, and the players were excited enough about it to say they'd bring their teammates back to check it out.
And they may even be inclined to give golf a shot.
"I thought it was pretty fun," said Grant Biehunko, a 16-year-old from Oxford who played three holes with Eschrig and made the city's first FootGolf eagle on the second hole he ever played. "I thought it looked pretty fun once he explained it to me and now I want to compete with my friends."
"It's like a weird idea, but it's pretty good," said Jose Alvarez, who went around twice with Opelika teammates Wilmer Alvarez and Ray Alvarado. "I'll recommend it and we'll bring the team back to play. Golf seems fun now."
That's the kind of response golf officials across the country were hoping for when they suggested involving the sport that merges the skills of soccer and golf for their grow-the-game initiative.
With Saturday's intro and a formal certification from the American FootGolf League last week, Anniston becomes the first city in Alabama to offer the sport. City officials are looking at it as another recreation option for the community and inspire use of the Municipal Golf Course, where the game ultimately will find a home.
"This is such a good thing for the sport of soccer, but it's also great as a salvation to a struggling golf course," said city councilman Jay Jenkins, who went around the course three times with increasing success each loop. "We've got all the pieces. I'm hoping as soon as soccer wraps up out here we're rolling it in up there."