Inspiring 8th-grader sets Oxford mark
Updated: September 13, 2014
UPDATED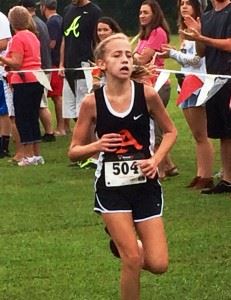 By Al Muskewitz
East Alabama Sports Today
OXFORD — The only thing faster than Amaris Tyynismaa in the Waffle House/Yellow Jacket Invitational cross-country meet Saturday was the four-wheeler that led the runners around the course.
The 13-year-old eighth-grader from Montgomery Catholic ran the fastest time of both races and set the high school girls course record in leading the Racing Knights to the girls' team title of the eighth annual event. She ran the 5K course at Oxford Lake Park in 18:01.77.
On a day when the goal was for everyone on her team to run a personal best, the former soccer player beat her previous PR by more than 40 seconds. Well-wishers at the finish were amazed at her age and stamina she exhibited in delivering that time.
"I wouldn't say it was easy, but the weather definitely helped and there weren't many hills," Tyynismaa said. "This was fun today. It was like the perfect weather for a run."
Steele Beavers, a 10th-grader from Gadsden City, won the boys race in 18:07.71. The Titans scored three of the top four finishers and four of the top 10 to run away with the boys' team title. Montgomery Catholic was second.
Running in only her third competitive high school race – all wins — Tyynismaa led wire-to-wire and was nearly three minutes ahead of girls' runner-up Abby Nunnelly of Alexandria (20:58.30) at the finish. Rebecca Hearn of Jacksonville was third.
"All three races we've run this year she's been under 19 minutes, regardless of the heat, humidity or whatever," Knights coach John Terino said. "Her goal today was 18:30.
"A lot of the science says that women should actually be better long distance runners than men … but at a 5K distance that's probably not the norm, but I think it indicates Amaris is truly an elite runner. She's already met elite national standards in her first race, so she's going into that kind of territory that only like the top runners in high school get to.
"I'm no expert on the fact, but I'd say she's top one percent in her age group. She's just that special. She could run at probably almost any Division I school right now. If she keeps this up for the next few years, I think she has the talent to get much, much faster."
Tyynismaa went out so fast it wasn't long before she lost contact with the rest of the pack. It could have been discouraging for those left behind, but Nunnelly was able to keep her spirits up because Hearn was running with her. The two local runners were locked in a battle for second virtually the whole race, with Nunnelly pulling ahead in the final loop around.
"We got down there where it bottlenecks and I could see (Tyynismaa) across the whole field and was like, 'How the heck was she over there,'" Nunnelly said. "She's really good. She's my inspiration. She was a soccer player before and this is like her first year running. It's like mind-blowing."
Tyynismaa was the one blown away when told of Nunnelly's comment.
"That's extremely sweet," she said. "I always told my mom that I wanted to inspire somebody someday."
Ohatchee eighth-grader Jimmy Wilson finished second in the boys race (18:14.64) after holding the early lead. Alexandria's Lane Trapp (19:06.73) and Ronnie Royal (19:10.44) were fifth and sixth, respectively.
Oxford finished second in the girls team competition, followed by Ohatchee, Jacksonville, Alexandria, Pleasant Valley, Gadsden City, Fayetteville and Glencoe.
Ohatchee finished third in the boys team race, followed by Alexandria, Pleasant Valley, Oxford, Glencoe and Jacksonville.
The Calhoun County cross country meet will be held October 21. Nunnelly and Wilson are expected to be among the favorites.
Al Muskewitz is Content Editor/Senior Writer of East Alabama Sports Today. To comment on this story or pitch a story idea, contact him at musky@wrightmediacorp.com and follow him on Twitter @easportstoday1.
Waffle House-Yellow Jacket Invitational
At Oxford Lake Park
GIRLS RACE
Team Results
Catholic-Mont. 34
Oxford 82
Ohatchee 112
Jacksonville 112
Alexandria 113
Pleasant Val. 125
Gadsden City 159
Fayetteville 210
Glencoe 238
Top 15 Individuals
x-Amaris Tyynismaa, Catholic 18:01.77
Abby Nunnelly, Alexandria 20:58.30
Rebecca Hearn, Jacksonville 21:15.72
Katelyn Stark, Catholic 21:30.86
Amber Dempsey, Oxford 21:47.20
Rachel Faucett, Pleasant Val. 22:14.83
Sarah Beth Littrell, Catholic 22:26.86
Madison Reeder, Oxford 22:30.95
Victoria McRaney, Ohatchee 22:41.07
Grace Leslie, Catholic 22:53.02
Mary Shelton, Jacksonville 22:54.38
Carlye Schmidt, Catholic 23:08.40
Shelby Wales, Fayetteville 23:32.08
Sydney Hill, Gadsden City 23:44.75
Annabel Starrett, Catholic 23:53.33
x-High school girls course record
BOYS RACE
Team Results
Gadsden City 34
Catholic-Mont. 66
Ohatchee 85
Alexandria 112
Pleasant Val. 113
Oxford 129
Glencoe 204
Jacksonville 218
Top 15 Individuals
Steele Beavers, Gadsden City 18:07.71
Jimmy Wilson, Ohatchee 18:14.64
Zach Kamran, Gadsden City 18:36.14
David Minton, Gadsden City 18:53.95
Patrick Gregorius, Catholic 18:59.55
Lane Trapp, Alexandria 19:06.73
Ronnie Royal, Alexandria 19:10.44
Devin Kelly, Catholic 19:11.05
Luke Thomas, Oxford 19:13.39
Ethan Janss, Gadsden City 19:16.95
Henry Jackson, Ohatchee 19:17.34
Garrison Clowdus, Glencoe 19:20.18
Daniel Gladen, Pleasant Val. 19:23.42
Grant Walker, Catholic 19:33.47
Winston Wright, Catholic 19:39.05