Brooks reaches semifinals
Updated: September 10, 2014
No. 10 seed last-man standing in tight battle with No. 15 Calkins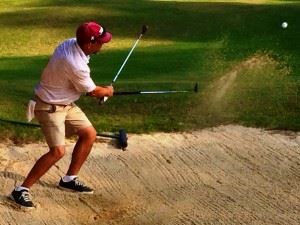 By Al Muskewitz
East Alabama Sports Today
Andrew Brooks was disappointed last year when he missed making the Calhoun County Match Play Championship field by a few points.
He made this year's field with plenty of room to spare and now is one win away from playing for the championship.
Brooks won his second match of the tournament Tuesday when he defeated Clay Calkins 2 up at Cane Creek Golf Course. He awaits the winner of the Jeremy McGatha-Daniel Black match to battle for a spot in the title match.
"My expectations at the beginning of the year were to finish top 10 and not have to worry about getting in this year," said Brooks, the No. 10 seed. "I was grateful just that I played well enough to not have to worry about it.
"This is a fun event. To be able to get in it and have some good competition with good people … for pride and something to end the Tour with is great. It's the first time I've been able to experience it and so far it's been … fun."
The match with Calkins was entertaining with much of the action taking place once the players came across the street from The Hollow. Brooks likened it to a boxing match with fighters exchanging blows.
Calkins made the turn with a 1-up lead. The match was all square through 11, then the players won alternating holes from 12 through 16 to give Brooks a 1-up lead.
Brooks made eagle on 14 after Calkins made a workmanlike birdie to go 1-up. Calkins nearly holed his tee shot on the 15 to draw even, then Brooks won 16 with a birdie to grab the lead for good.
"Clay's a grinder," Brooks said. "Never at any point was he out of the hole. The putter's the equalizer, but it seems like that's Clay's strong suit. He's a great putter and never feels like he's out of the hole as long as he can put the flat stick on the ball.
"He didn't just hand it over by any means. He grinded it out and forced me to hit some good shots and make some good putts. That's what makes it fun."
The match appeared over on 17 when Calkins' approach rolled into the greenside bunker instead of bouncing forward and he bladed his bunker shot well over the green. But the 15th-seed made a 30-foot putt to halve the hole with a bogey when Brooks two-putted from 10 feet.
That meant needed to win 18 to force extra holes. Both players had birdie putts when Calkins offered his hand in concession.
"(The putt on 17) was big, but he stood up to it," Calkins said. "I made the putt on 14 and he could've crumbled, but he didn't. I birdied 15 and he hit a great chip shot and we probably would've halved that if I didn't make a birdie, then I make a bomb on 17 and he hits it on 18 to a gimme birdie.
"Andrew deserves all the credit. He could have crumbled and didn't. He played solid all day. He played better than I did."
Calhoun County Match Play Championship
(All matches at Cane Creek Golf Course)
First-round matches
Buddy Moore Bracket
No. 1 Gary Wigington def. No. 16 Jeff Borrelli, 6 & 5
No. 8 Matt Rogers def. No. 9 Scott Martin, 2 & 1
No. 13 Billy Thompson def. No. 4 Grant Hockman, 2 & 1
No. 5 Jaylon Ellison def. No. 12 Lance Evans, 2 & 1
Chris Banister Bracket
No. 15 Clay Calkins def. No. 2 Ty Cole, walkover
No. 7 Adrian Geeting vs. No. 10 Andrew Brooks, 1 up
No. 3 Jeremy McGatha def. No. 14 Nick Pollard, 5 & 4
No. 11 Daniel Black def. No. 6 Ott Chandler, 19 holes
Second-round matches
Wigington def. Rogers, 3 & 1
Ellison def. Thompson, 3 & 2
Brooks def. Calkins, 2 up
McGatha vs. Black
Semifinal matches
Wigington vs. Ellison, Sept. 16, 3:30 p.m.
Brooks vs. McGatha-Black winner