Jacksonville: Keep it going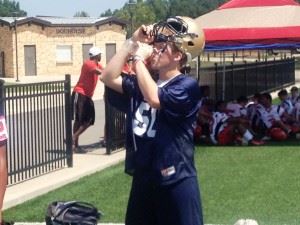 Golden Eagles looking to continue growth under Clint Smith
"We got used to winning last year and . . . it felt good. We'd like to build on going to the second round last year. We just want to progress, not regress."
— Jacksonville center C.C. Ryan
By Al Muskewitz
East Alabama Sports Today
JACKSONVILLE — When it comes to building a football program, the clock never stops ticking. The bar never stops moving. There's always another level to reach.
The toughest part is establishing a base. Clint Smith seems to have gotten the foundation of competing for region championships laid after two winning seasons at Jacksonville. The challenge now is to keep it going.
The Golden Eagles have increased their win total in each of Smith's first two years. This year, they face the challenge of maintaining it against a bunch of new opponents while trying to fill some key spots, but Smith is confident in the next wave getting the job done.
"Our expectations don't change as far as what our goals are," Smith said. "Those two senior classes were good mentors for our young kids coming up and we fully expect this year's senior class to take it and try to take it that much farther."
The Golden Eagles have gone 5-5 and 8-4 in Smith's two seasons, the first time they've produced back-to-back non-losing seasons since the end of four straight winning seasons in 1999. Smith didn't have his first winning season at Saks until Year 3 and then had four in the next five years.
They made the playoffs last year for the first time since 2009 and only the fifth time in school history – reaching the second round. That team won more games than any Jacksonville team since 1999 and set a school record with 372 points.
They don't expect that to be the top of the mountain and having to start a new cycle. The older players in the program have finally tasted some success and they want more.
"We got used to winning last year and I think that's going to be a big boost for us because we have experienced winning and it felt good," senior center C.C. Ryan said. "We'd like to build on going to the second round last year. We just want to progress, not regress."
Smith likes that kind of talk.
"We want them to understand that there's more to it," he said. "Winning is contagious. Once you start winning then it makes you want to go farther. That's what you want, that's what you crave, that's what you expect and I really think our kids are starting to expect that. They know there's more out there."
The stay on track this year the challenge is to replace their quarterback and lead running back; all of their skill personnel are gone except versatile Sid Thurmond.
Junior Quen Veasley goes in at quarterback and will take his first snaps as the starter when the Golden Eagles open their season Friday at home against Alexandria, a non-region opponent for the first time since 1993. Speedy sophomore Tae Ackles steps in at running back. Luckily, they'll be protected by a veteran offensive line, anchored by seniors Ryan, Josh Barnes and Kevin Mitchell.
The defense will be anchored by linebacker Savon Parker and Thurmond.
"We know we're young and got some guys stepping into roles the first time," Smith said. "We're being patient with them, but we're also expecting them to come to practice every day and get better. By the time end of the season gets here these young guys will have some games under their belt and hopefully we'll be peaking at the right time."
Al Muskewitz is Content Editor/Senior Writer of East Alabama Sports Today. He can be reached at musky@wrightmediacorp.com and followed on Twitter @easportstoday1.

JACKSONVILLE GOLDEN EAGLES
Aug. 22 — Alexandria
Aug. 29 — at Weaver
Sept. 5 — Crossville
Sept. 12 — at Sardis
Sept. 19 — Cherokee County
Sept. 26 — at Butler
Oct. 3 — Cleburne County
Oct. 10 — at White Plains
Oct. 17 — Hokes Bluff
Oct. 24 — at Saks